Santa Clarita Sheriff Station
Santa Clarita Sheriff Station Jail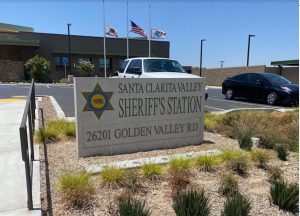 Santa Clarita Sheriff Station 
26201 Golden Valley Road
Santa Clarita, CA 91350
Station/Jail: (661) 260-4000
The New SCV Sheriff Station located on Golden Valley Road in Santa Clarita is state-of-the-art, and opened its doors in 2022. If you know someone, a friend or loved one, who has been arrested and taken into custody and jailed at the Santa Clarita Sheriff Station, call us anytime, day or night.
Santa Clarita Sheriff Station Jail Information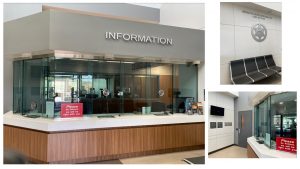 For questions about someone arrested and being held at the Santa Clarita Sheriff Station, give our local agents a call at (661) 299-BAIL (2245) or, toll-free 877-422-4591.
We have expert knowledge of the local sheriff station, arrest and jail procedures and can guide you through the process.
As well as additional tools to help you locate your friend or loved one within the jail system.
The Santa Clarita Sheriff Station is staffed by over 200 deputies, and they are responsible for patrolling the areas of Santa Clarita such as: Valencia, Saugus, Newhall, Castaic, Stevenson Ranch, Val Verde, Canyon Country, Acton, Agua Dulce, Parts of the Angeles National Forest, Gorman, Neenach, Mint Canyon, Hasley Canyon, Sleepy Valley, Fair Oaks Ranch, Sand Canyon, Bouquet Canyon, and Six Flags Magic Mountain.
When Someone You Care For is in Custody at the Santa Clarita Sheriff Station
Our local Santa Clarita agency is also our headquarters, located directly across the street from the Santa Clarita Sheriff's Station Jail, just a quick walk from the station doors!
We offer our clients and families a comfortable and private place to handle the paperwork 24/7.  We always have available, hot coffee, tea, water, snacks and refreshments, while they wait for their loved ones release. This, versus waiting long, arduous hours in a sheriff's station lobby.
Santa Clarita Sheriff Station Jail Booking Process Information
When a person is arrested and taken into custody in Santa Clarita, they will be transported to the Santa Clarita Jail located on Magic Mountain Parkway for booking and processing into the system. The station has 11 jail cells and is capable of temporarily housing up to 40 inmates.
The booking process generally consists of taking the arrestees fingerprints, photographs, conducting a nationwide background check or "Live Scan" and entering them into the system. This can take from 2 to 6 hours or more depending upon the defendant's individual situation.
If the defendant has a medical issue, or the jail is overcrowded, it is highly likely the arrestee will be transported to the Los Angeles County Twin Towers Facility. Women will be transported to the Lynwood Jail or (CRDF).
If defendants are transported, their release time will increase significantly. We've seen it take an additional 24 hours. We always recommend bailing the defendant out while they are still at the smaller Santa Clarita jail facility for a much faster release time.
You can always contact a licensed agent with our company to find out where the arrestee is in the booking process, their charges or their bail amount.
Once the booking process is completed, they will be clear for bail. A Santa Clarita Bail Bondsman can post a bail bond within minutes at this jail facility 24 hours a day. The release time once the bond is posted can take from 30 minutes to 1 hour or more depending upon the defendant's individual situation.
Visiting an Inmate at the Santa Clarita Sheriff's Station
If you are planning on visiting an inmate at the Santa Clarita Sheriff Station Jail, it is best to adhere to all of their rules and regulations. The jail visitation times are from 10:00 am to 2:00 pm every day.
The Santa Clarita Station jail will allow inmates to receive 15 minute visits. This is limited to (1) adult and (2) children.
All children are required to be accompanied by a parent or legal guardian.
All visitors must show a valid government issued photo identification, passport or other acceptable form of ID.
Visits will be taken on a first come, first serve basis. This may be subject to delay due to jail staff workload and hours.
All visitors at the Santa Clarita Sheriff's Station Jail are subject to a search of their person.
Visitors are subject to arrest should any warrants, illegal drugs or weapons be found by the jail deputy.
Professional Santa Clarita Sheriff Station Jail Bail Bonds
We take pride in providing the Santa Clarita community with excellent, professional customer service and care. When you contact us, you'll speak personally with a live bondsman located in Santa Clarita who knows what you are going through. They will take the time to listen carefully to your situation and provide fast action for the release of your family member, loved one or friend.
Easy Payment Plans For a Bail Bond at the Santa Clarita Sheriff Station
We make it easy to pay for a bail bond by taking all major credit cards and checks. You may also pay in cash, or direct deposit.
We understand it may be difficult to afford the entire amount of the bond at once. That's why we offer flexible payment terms and can set up a comfortable payment plan with your good credit. It just takes a few moments over the phone to get qualified. Best yet, we can work quickly and easily with the use of our bail by fax or email option.
We can also meet with you directly at the jail, your home or office. Or, we're just across the street from the jail at 20605 Soledad Canyon, #100, Santa Clarita, CA 91351.  Let us know what works best in your situation.
Feel free to read more about the entire bail bond process from start to finish on our Bail FAQ's page.
Santa Clarita Sheriff Station Team Information
The Santa Clarita Sheriff Station is home to over 200 sworn staff and 42 professional members. The current Santa Clarita station serves 52 square miles in the Santa Clarita area and 596 square miles of unincorporated Los Angeles County.
The Community Interaction Team is used to resolve criminal and nuisance problems identified by a number of sources such as; patrol, crime analysts, station detectives, desk personnel, tip lines, city officials, community members and business owners.
The Robbery and Assault Team handles robberies, domestic violence,  assault, vandalism, weapons vandalism, hate crime, adult sex crimes, runaways, alleged mentally ill cases and annoying telephone calls.
The Burglary and Theft Team handles business and school thefts and embezzlement's, storage rental yards thefts, residential burglaries, theft of property, cases generated by the Court or the D.A.'s stolen bicycles, office, credit card fraud cases, theft of vehicle parts, vehicle burglaries,  tampering, vehicle thefts and vandalism cases.
The COBRA Team handles crimes committed by persons 20 years old and under and crimes that are gang related.
The Operations Team take care of misdemeanor filings, crime analysis, all secretarial functions, all crimes committed on school campuses and evidence and property issues.
The highly specialized Off-Road Enforcement Team enforces illegal off-highway vehicle activity in the Santa Clarita Valley Station area.  The team is equipped with two 4×4 vehicles, Honda and Suzuki Dual-Purpose motorcycles. This equipment affords the opportunity to access areas that are inaccessible to regular patrol vehicles.
The Emergency Services Detail of the Department is responsible for coordinating and participating in mountain search and rescue, underwater search and rescue and swift water and flood rescue operations.
Up-to-date Santa Clarita Valley Sheriff Station Information
The following information was provided by the LASD at their local Nixle alert on staying connected. Local media outlets use information to reach out to the public and share relevant crime and public safety information. The community can choose when and how to receive any of these updates by changing their social media settings.
The Public can get in touch with the local department through any of the following, informative sites: 
Santa Clarita Valley Sheriff Station – Zone Enforcement
It's good to become familiar with the Santa Clarita Valley Sheriff's Station's zone concept in crime prevention. The Santa Clarita Valley Sheriff's Station launched a Crime Prevention Unit (CPU) in March 2011.
The Santa Clarita Sheriff's Station worked directly with Geographic Information System (GIS) Specialists from the city of Santa Clarita to identify and map 8 color-coded Crime Prevention Zones, encompassing the entire Santa Clarita Valley.
Each of the 8 Crime Prevention Zones is broken down by crime reporting districts and is overseen by a Zone Leader Deputy Sheriff responsible for a detailed review of all crime within their zone on a daily basis. Zone Leaders are part of the Crime Prevention Team (CPT).
It's prudent to know your zone and stay in touch for local updates on crime and disaster.
Zone 1 – Gorman Area
Zone 2 – Castaic/Val Verde Areas
Zone 3 – Stevenson Ranch Area
Zone 4 – Saugus Area
Zone 5 – Valencia Area
Zone 6 – Newhall Area
Zone 7 – Canyon Country West
Zone 8 – Canyon Country East
See the  list of zone leaders and their contact information.
Every sheriff's station throughout Los Angeles County encourages residents to immediately report any suspicious activity by calling their local station, or for crimes in progress dialing 9-1-1.
See why to choose SCV Bail Bonds
For immediate bail information on the Santa Clarita Sheriff Department or for a free consultation, call us locally at (661) 299-BAIL (2245) or reach us toll-free, 24 hours a day at (877) 422-4591. We're in your corner.
Santa Clarita Valley Zip Codes We Serve: 91310, 91321, 91322, 91350, 91351, 91354, 91355, 91380, 91381, 91382, 91383, 91384, 91385, 91386, 91387, 91390
Click the areas below for detailed information in your specified area:
Circle J Ranch
Del Valley
Green Valley
Lake Elizabeth

Hasley Canyon
Lake Hughes
Leona Valley
Placerita Canyon
Robinson Ranch
Sand Canyon

San Francisquito Canyon
Magic Mountain (Six Flags)
Sleepy Valley
Val Verde
Jails, Detention Centers, Courts We Serve in Santa Clarita