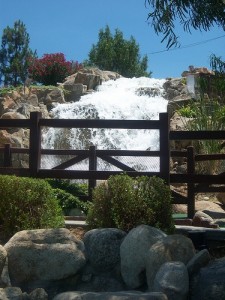 Mountasia is a place where families, as well as individuals can go to have fun and enjoy the games and many amusement features the park has to offer. Whether it's a round or two of mini-golf, a ride on the bumper-boats or a delicious treat from Farrell's Ice Cream Parlor, the Mountasia Family Fun Center is sure to have something to offer everyone.
Sometimes though, things can happen before we know it. If someone you know or love has been arrested and taken into custody at or in the area around Mountasia amusement park, call us now to begin the bail process. A licensed, local bail bondsman will take your call and answer any and all questions you may have.
Call SCV Bail Bonds locally at 661-299-BAIL or toll-free at 877-422-4591.
We're located directly across the street from the Santa Clarita Sheriff's Station at 23734 Valencia Blvd., and are always here to help.
Whether it's booking or charge information that you require, or if you want to immediately bail someone out of jail, our knowledgeable staff is ready any time day or night to assist you.
Santa Clarita Valley Sheriff Station and Jail Information
Santa Clarita Valley Sheriff Station
26201 Golden Valley Road
Santa Clarita, CA 91350
Station/Jail: (661) 260-4000
24 Hour Mountasia Bail Bond Info: 661-299-2245
Mountasia is located at 21516 Golden Triangle Road in Santa Clarita, California. Since Mountasia is located in the Santa Clarita Valley, its law enforcement needs are handled by the Deputies of the Santa Clarita Valley Sheriff Station. Thus, when someone is arrested at Mountasia, that is where they are taken for booking and processing.
Although the jail in Santa Clarita is small, booking and processing is usually completed within 2 to 4 hours. Once completed, bail will be set (if eligible) and it is possible that the inmate may be transferred to a larger facility if the small Santa Clarita Jail is overcrowded.
The expediency with which the booking and processing procedure takes place at this location can pose problems for the recently arrested.
Transfer from the Santa Clarita Jail will usually end up with an inmate being relocated to Twin Towers Correctional Facility and this can easily add another 24 hours to their time in custody. In order to avoid the transfer and increased time in custody, it is important to get the bail bond process begun as quickly as possible.
Depend Upon us to be Available Anytime
You can depend on us when you're in need of a bail bond in the Mountasia area. It's usually a surprise when someone is arrested and as such, a licensed bail bondsman stands ready to serve you any time day or night, 365 days a year.
We can assist you in-person by meeting you directly at the jail, over the phone and even by fax or email. Additionally, we can meet you at our local office to handle the paperwork in a comfortable environment. We pride ourselves on our courteous, comforting service to the community and we strive to make the process as quick and easy for you as it can possibly be.
Payment Options
We at SCV Bail Bonds are proud to offer several payment plans designed to fit any budget. We accept major credit cards including: Visa, Master Card, American Express and Discover as well as cash, business or personal check, money order, money wire and bank account transfers.
We also offer several creative financing options in order to ensure than financial issues are no bar to getting your friend or loved one free from custody.
If you have questions about Mountasia Bail Bonds, call us today at 661-299-BAIL (2245) or toll-free at 877-422-4591. We understand that this can be a trying time, and are here to help in any way that we can.