If someone you care for has been arrested and taken to the Twin Towers Jail, let us help you. Many people do not realize that the Twin Towers Correctional Facility located in downtown Los Angeles happens to be the second world's largest jail.
The largest is Men's Central Jail, located directly across the street!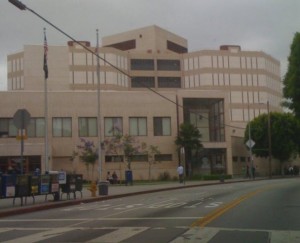 The Twin Towers Jail Facility houses both maximum security prisoners and most of L.A. County's mental health inmates. Needless to say, it can be a very busy jail and can often take hours just to get through to a jailer over the phone.
That's where SCV Bail Bonds can help you. We'll stand by you every step of the way to get your loved one released from Twin Towers jail quickly and efficiently. We are able to call Twin Towers every hour on the hour via phone lines which are specifically reserved for bail bondsmen.
The only call you'll have to make is one. Call SCV Bail Bonds anytime, day or night, weekends and holidays at (213) 373-5245 or toll-free 877-422-4591 for immediate bail assistance at Twin Towers Jail.
Twin Towers Jail Information

Twin Towers Jail Correctional Facility
450 Bauchet Street
Los Angeles, CA 90012
Bus. Phone: 213-893-5100
24 hour inmate and visiting information: (213) 473-6100
24 Hour Twin Towers Bail Bond Information: (213) 373-JAIL (5245)
The Twin Towers Jail is both a point of entry into other jail systems and it is the main facility for housing inmates in the Southern California area.
Twin Towers Jail Booking Process
When someone has been arrested and taken to Twin Towers Jail, they will be booked into the County's computer system.The booking process at Twin Towers generally includes photographs or (mug shots), taking the defendant's fingerprints, (also called "Live Scan"), and conducting a nationwide database search, etc.
While waiting for the defendant to be updated in the system, we can work with you to prepare the necessary documents in person or via email or fax.  We realize it can take a long time for an update to happen at the Twin Towers facility, however, this is the normal process of the jail system.
Once their booking process is complete, we can post the bond 24 hours a day. However, the wait-time for a defendant's release once a bond has been posted can take anywhere from 4 to 24 hours. Unfortunately, we don't have any control of this.

You should be aware that if the defendant is not bailed out of jail, they will remain in custody until their first arraignment. This can often take a few days, especially if they are arrested on a Thursday or Friday; as court is only conducted during business hours Monday through Friday.
Visiting an Inmate at Twin Towers
Additionally, if you are choosing to visit an inmate at the Twin Towers facility, it is best to adhere to all hours and visiting rules and regulations prior to your visit.
At SCV Bail Bonds we understand you don't want to wait that long to get your friend, family member or loved one out of this busy and large Los Angeles County jail.
We can quickly and easily arrange bail by fax or email, or we can have a knowledgeable, licensed bondsman come directly to you. We are open 24 hours a day, 7 days a week.
Additionally, you can find more out about procuring a Los Angeles Public Defender. Or call us anytime for a no cost consultation.
Paying for The Bond
In most cases, you may not need collateral and we can typically do what is called a "signature bond." To pay for the bond, we take Visa, Mastercard, American Express and Discover, cash and personal or business checks.
In California, the cost of a bail bond is set at 10% of the total bail amount. So, if the total amount of bail is $15,000, then the cost of a bail bond will be $1,500. Please be aware that the bail premium is always non-refundable.
Additionally, to make paying for the bond easier for you and your family, we offer a convenient and flexible payment plan with your good credit and/or home ownership. It just takes a few moments over the phone with a caring agent to see if you qualify.
Call SCV Bail Bonds locally at (213) 373-JAIL ( 5245) or toll-free at 877-422-4591 for a no cost, no hassle consultation and assistance with bail for the Twin Towers Jail. It is our job to help you. We'll do it professionally, discreetly and honestly.