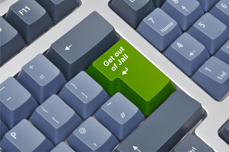 SCV Bail Bonds provides fast, reliable service via the Internet. It's all part of our commitment to provide even faster service to anyone who's just received the "hard-hitting" news that a loved one, family member or friend has been arrested and has been brought into custody.
With one phone call, we can send you our easy application, by fax or email anytime of the day or night. Our application takes just a few minutes to complete and we can even walk you through the process over the phone.
Why Choose SCV Bail Bonds Fax or Email Services?
Let's say it's late at night and all the banks are closed. You're tired and already stressed out. The last thing you want to do is get in your car and drive to an office, search for an automatic teller machine or wake up friends or family.
By handling the application via email or fax, you can review the bail details in the privacy of your own home. We're always available for follow-up with any questions you may  have. (if you prefer, we can always meet with with you at our office, your home or directly at the jail.)
You can also pay the bail bond premium (which is 10% of the total cost of the entire bail amount) with a charge card. This happens to be the fastest, most efficient way of paying for the bond. Using the technology of email or fax means your friend or loved one can be released even sooner.
The Application Process
When you receive our application by email, it will come in a PDF form with a cover letter and instructions. If you prefer, we can also send the same application by fax. The application requires your name, address, payment information, (Form/s of picture ID such as a driver's license or passport are required), along with a copy of your credit card if used.
We have strict security protocols, so your information is always kept confidential. Further, if there are any specific payment plans we've agreed to, they will be included in the contract. All you have to do is print it out, fill it in, and fax or email it back to us. It's as simple as that.
Call us 24 hours a day at 1-877-422-4591 to get the process started. 
Download our bail application directly from our website, print it out, fill it out and fax it back. 
Or, you can provide us your email address or fax number;

We'll send you the contract and application within minutes. Once they are completed  you can;
Fax it back to us at 877-422-4232 or scan and email it back to the agent working with with you.
We'll process the application, along with your payment information and have a licensed bondsman quickly dispatched to the jail where the defendant is located.
The defendant will be released after they are processed out of the jail system. (Each facility has it's own process and timing. Release times can take anywhere from 1 to 12 hours or more depending on the individual case of the defendant.)
If you don't own a fax machine or scanner, don't worry.  Our on-duty bondsmen can locate your nearest 24-hour copy store, such as Kinko's, Staples, Office Depot or UPS store. Which all have faxing capabilities. You can fill out the application, then take a short drive to one of the facilities to send it out.
Fast, Easy, Reliable, Efficient — SCV Bail Bonds is Here for You
Our main office is located in Valencia, however, we provide bail service throughout Southern California and Ventura County. We are able to serve anyone who calls us, 24/7×365.
Although fax and email play crucial roles in our company, at SCV Bail Bonds we still believe our biggest asset is the personal service we provide each and every one of our clients. We can also send a licensed, professional bail bondsman right to your door – or any location most convenient for you.
Please do not hesitate to call. We are open anytime, day or night, weekends and holidays.
Call SCV Bail Bonds, toll free at 877-422-4591 or (877-4-BAIL-911). A caring and licensed bondsman is standing by, waiting to talk to you.