The Application Process
Our bail bond application forms and bail bond contract are fast and easy. You will need to sign the applications and fax them or scan them and email them back to us. Call us for more information at 661-299-2245.
We also have The Indemnitor Application Agreement and Addendum,  Indemnitor Checklist, Plain Talk Contract forms in PDF fillable versions also. You can simply type directly into them, and print them out to sign.
Indemnitor Application and Agreement

CA Addendum to Indemnitor Application Agreement

CA Plain Talk Contract

CA Indemnitor Guarantor Checklist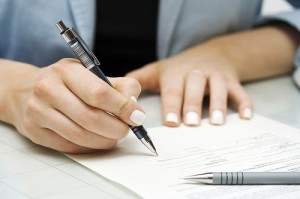 The application requires your name, address, payment information, (Form/s of picture ID such as a driver's license or passport are required), along with a copy of your credit card if used.
If  you receive our application by email, it will come to you in a PDF form with a cover letter and instructions. If you prefer, we can also send the same application by fax.
We have strict security protocols when it comes to handling your bail bond application forms, rest assured that your information is always kept strictly confidential. 
Further, if there are any specific payment plans that we agreed to verbally, they will be included in the contract. All you have to do is print it out, fill it in, and fax or email it back to us. It's as simple as that.
Call us 24 hours a day at 1-877-422-4591 or at one of our local numbers to get the process started. 
Or, you can provide us your email address or fax number;
We'll send or email you the contract and application within minutes. Once they are completed you can;
Fax them back to us at 877-422-4232 or scan and email them back to the agent working with with you.
We'll process the application, along with your payment information and have a licensed bondsman quickly dispatched to the jail where the defendant is located.
The defendant will be released after they are processed out of the jail system. (Each facility has its own process and timing. Release times can take anywhere from 1 to 12 hours or more depending on the individual case of the defendant.)
If you don't own a fax machine or scanner, don't worry, we can still accommodate you.
Additional Bail Bond Application Options
If you're in the area we can meet with you directly at your home, office or the jail where the defendant is in custody. We can assist you in the paperwork process there.
You can meet with us at our office conveniently located at, 20605 Soledad Canyon, Santa Clarita, CA 91351. (Located on the corner of Soledad Canyon Road and Furnivall Ave. (Just minutes from the Santa Clarita Sheriff's Station.)
Please let us know what works best for you. It is our job to accommodate your needs. Trust us to get the job done professionally, discreetly and in a timely manner.
For more information on privacy and the confidentiality of your application data, read our Privacy Policy.