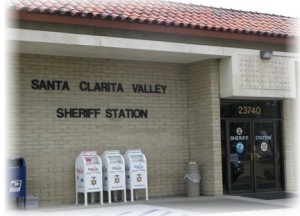 Perhaps you have found us today because someone you care for has been arrested in Santa Clarita Valley.
We'll give as much time needed to explain the Santa Clarita bail bonds process over the phone, meet with you in person, or meet with you directly at the jail to procure the defendant's fastest release.
Santa Clarita Jail Booking Process
When someone is arrested and taken into custody anywhere in the Santa Clarita area they will likely be transported to the Santa Clarita Valley Sheriff station for booking and processing.
The booking process can take from 2 to 4 hours to complete and generally consists of taking the defendant's fingerprints, photographs, (mug shots) and entering their information into the County jail system. The arrestee cannot be bailed out or visited during this time, but we can start the process by taking care of the bail application paperwork with you for a much faster release time.
A local Santa Clarita community bondsman is available for you 24 hours a day. Best of all, we can come to you within minutes! We'll personally work with you from arrest to release.
Just call us locally anytime day or night at 661-299-BAIL (2245) or toll-free 877-422-4591.
Santa Clarita Sheriff Station Jail, Court, Public Defender & District Attorney Info.
Santa Clarita Valley Sheriff Station Jail
26201 Golden Valley Road
Santa Clarita, CA 91350
Station/Jail: (661) 260-4000
24 Hour Santa Clarita Jail Bail Bonds Info: 661-299-2245
Santa Clarita Jail Inmate Finder
Santa Clarita Courthouse
North Valley District
Santa Clarita Courthouse
23747 West Valencia Blvd.
Santa Clarita, CA 91355
Criminal Window: (661) 253-5698
Traffic Division: 661-253-5699
Santa Clarita Courthouse Website 
Santa Clarita Public Defender's Office
23747 West Valencia Boulevard
Valencia, CA 91355
Phone: (661) 253-7262
Fax: (661) 287-3648
Santa Clarita Public Defender's Office Website
Santa Clarita District Attorney's Office
23747 West Valencia Blvd. Rm. 1
Valencia, CA. 91355
Phone: 661-253-7244
Fax: 661-254-8942
Santa Clarita District Attorney's Office Website 
The Santa Clarita Station is responsible for providing Law Enforcement services to all of the City of Santa Clarita, as well as 600 square miles of unincorporated County communities of Stevenson Ranch, Castaic and Gorman. The station is open 24 hours a day.
Santa Clarita is one of the safest cities in which to live, mishaps can still happen. That's why we are right here for you at a time when you may need us the most. We're active members of the community who live, work, play and support our neighborhoods and the communities of Santa Clarita.
The Bail Bond Process
When you call to speak with one of our licensed bondsman, they will likely ask a few quick questions to begin the bail bond process.  Questions such as credit history, home-ownership, employment and citizenship status will be discussed.  We do this in order to assess the risk in underwriting the bond.
When this process is complete, we"ll quickly deliver the easy paperwork in person, by fax or email. Then, we'll work diligently with you to have your friend,  family member or loved one released from the Santa Clarita jail as quickly as possible.
When the defendant has been booked, processed and updated, they will be ready for bail. A licensed bail agent will post the bail bond with the Santa Clarita jail and the defendant will be released.
What Happens if The Defendant is Not Bailed Out?
It's important to know that if the defendant is not bailed out of jail, they will likely remain in custody at the Sheriff's Department jail until their first arraignment.
If they are not released from court, they will be transported to IRC at the Twin Towers Correctional Facility, in downtown Los Angeles if they are men. Women will be transferred to Lynwood/CRDF in Lynwood. Release times from these facilities can take as much as 24 hours. We always recommend having your loved one released from the smaller, Santa Clarita jail before they are transferred.
Our licensed agents can post a bond at this smaller jail 24 hours a day. Once the bond is posted it can take from 30 minutes to an hour for the defendant to be released.
Read more about the benefits of bailing someone out of the Santa Clarita Jail.
Paying for a Santa Clarita Bail Bond
For payment, we accept cash, VISA, MasterCard, Discover and American Express. We also take your personal and business checks (subject to prior verification.) A credit card by the way, is the fastest most convenient way of obtaining a bail bond.
Just give us a call or read more about the bail process on our Bail FAQ's page.
If you have further bail bond questions about someone arrested and jailed in Santa Clarita,  give us a call as we are always available to assist you. Our local number is 661-299-2245 (BAIL).
Other areas, jails and locations we provide Bail services in the Santa Clarita Valley and surrounding areas:
Acton  – 93510
Agua Dulce – 91350
Bouquet Canyon – 91350
Canyon Country – 91351, 91386, 91387
Castaic  – 91310, 91384
Castaic Lake – 91384
Circle J Ranch – 91350
College of the Canyons – 91355
Del Valle – 91355
Fair Oaks Ranch – 91387
Green Valley – 91350, 91390
Gorman – 93143
Lake Elizabeth – 93532
Hasley Canyon – 91384
Hurricane Harbor – 91382, 91383, 91355
Lake Hughes – 93532
Leona Valley – 93551
Magic Mountain – 91355
Masters College  91321, 91350, 91351
Mint Canyon – 91350, 91351
Mountasia – 91359
Newhall – 91382, 91381
Pitchess Detention Center – 91384
Placerita Canyon – 91321
Robinson Ranch – 91387
Sand Canyon – 91387
Santa Clarita – 91383
Saugus – 91350, 91390
Magic Mountain (Six Flags) – 91355
Sleepy Valley – 91350
Stevenson Ranch – 91381
Sylmar – 91392
TPC (Tournament Players Club) – 91381
Valencia – 91380, 91354, 91355, 91385
Valencia Town Center – 91355
Val Verde – 91384
Vasquez Canyon – 91351
Vasquez Rocks – 91390
Wayside – 91384
With our company, you're not likely to see any flashing neon bail bond signs. We're discreet and subtle and know our clients want the same respect.
Read more about how to find the most professional bail bondsman in Santa Clarita.
Call us if you have any questions in Santa Clarita at 661-299-2245, we're ready to help.