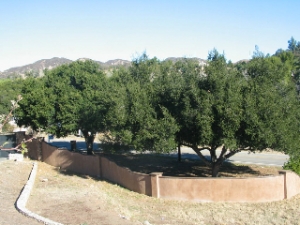 Perhaps you have found us today because someone you care for has been arrested in Castaic. If that is so, they will be taken to the Santa Clarita Station, which provides law enforcement services for Castaic. When you call, we can provide you caring, professional guidance.
Our bondsman understand the Santa Clarita Jail system and can work quickly for the release of your loved one, friend or family member. Call us locally, 24 hours a day at 661-299-2245 for immediate bail information.
Santa Clarita Sheriff's Station Information 
Santa Clarita Valley Sheriff Station
26201 Golden Valley Road
Santa Clarita, CA 91350
Station/Jail: (661) 260-4000
24 Hour Castaic Bail Bonds Info: 661-299-2245
The Santa Clarita Jail is administrated by the Santa Clarita Sheriff Department and is a small but busy facility with a limited amount of space.
If you should wait to post bail until after a defendant goes to court, they will likely be transferred from this jail to one of the main County Jails in downtown Los Angeles. When there, the process of bailing someone out can take much longer. Our knowledgeable and discreet SCV bail bondsmen can help you avoid this all together.
It's been our experience that most people arrested in Castaic are from out of town or visiting Magic Mountain. We also understand this is probably your first time dealing with your friend or loved one's arrest. That's why we will always take whatever time you need to explain how bail bonds work.
Castaic is a well known local vacation spot for many Los Angelino residents thanks to its man-made lake. It is located just north of Santa Clarita, near Six Flags Magic Mountain. Castaic was founded in 1915 as the starting place of Ridge Route, which was the first paved highway to link the Los Angeles Basin to the San Joaquin Valley for many travelers.
If you are seeking information about the Pitchess Detention Facility or the North County Correctional Facility in Castaic, please visit our specific Detention Facility page.
Payment Information
People that are unable to afford bail will definitely benefit the most from our assistance. At SCV Bail Bonds, we can accept clients with an average or modest income because we only charge them one single cost-of-service-fee which is 10% of the entire bail amount. (For example, a 10% fee on a $10,000 bail bond would be $1000).
And if the fee is still too much to pay, our bondsmen can almost always work out a payment plan with your good credit. To get started, we'll send you our easy-read application by fax or email, or we can deliver it to you in person at the jail.
So please, don't go through the stress of trying to get someone out of jail alone.
A Castaic bondsman is available for a no cost consultation 24 hours a day. Best of all, we can meet you within just 30 minutes! Just call SCV Bail Bonds, locally at 661-299-BAIL (2245) or toll-free 877-422-4591.