Inmate Information in Santa Clarita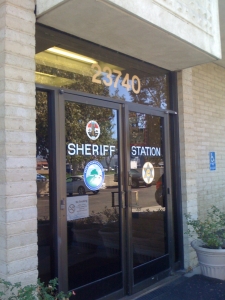 If you know someone, a friend or loved one, that has been arrested and taken into custody in Santa Clarita or any of the surrounding areas, you will likely have a lot of questions and we can help. This page will provide you with a wealth of information regarding the:
As well as additional tools to help you locate your friend or loved one within the jail system.
The Santa Clarita Sheriff Station is staffed by over 200 deputies, and they are responsible for patrolling the areas of Santa Clarita such as: Valencia, Saugus, Newhall, Castaic, Stevenson Ranch, Val Verde, Canyon Country, Acton, Agua Dulce, Parts of the Angeles National Forest, Gorman, Neenach, Mint Canyon, Hasley Canyon, Sleepy Valley, Fair Oaks Ranch, Sand Canyon, Bouquet Canyon, and Six Flags Magic Mountain.
Read more about the Santa Clarita Valley areas served.
Our local Santa Clarita agency is also our headquarters, located directly across the street from the Santa Clarita Sheriff's Station Jail, just a quick walk from the station doors!
We offer our clients and families a comfortable and private place to handle the paperwork and always have available, hot coffee, tea, water, snacks and refreshments, while they wait for their loved ones release. This, versus waiting long, arduous hours in a sheriff's station lobby.
Booking and Processing in Santa Clarita
Those who are arrested in any of the above areas will likely be taken to the Santa Clarita Sheriff Station where they will go through the booking and processing procedure. This process is one that you're likely familiar with, as it is often depicted on television and in movies. It includes taking an inmate's photograph, recording their fingerprints and conducting a national background check. Only after these things have been completed will an inmate be cleared for bail and eligible for release.
Read more about Santa Clarita Bail Bonds.
If you need help locating your friend or loved one, our offices are open 24-hours a day, 7-days a week. We can be reached at 661-299-BAIL (2245) or toll-free at 877-422-4591.
Santa Clarita Sheriff Station Jail Information
Santa Clarita Sheriff Station
23740 Magic Mountain Parkway
Valencia, California 91355
Station: (661) 255-1121
Jailer: (661) 799-5123
Visiting hours at the SCV Sheriff Station are from 10 a.m. to 2 p.m. daily. Visitation is limited to 1 adult and 2 children per day.
If an inmate at the SCV Sheriff Station is being charged with a misdemeanor, he or she will be arraigned at the Santa Clarita Courthouse, located next door to the sheriff station. Felony charges, however, are arraigned at the San Fernando Valley Courthouse.
Santa Clarita Courthouse
23747 West Valencia Blvd.
Santa Clarita, CA 91355
Administration Phone: 661-253-7301
Civil Court: 661-253-7313
Community Service: 661-253-7247
Criminal District Attorney: 661-253-7244
Probation: 661-253-7271
Small Claims: 661-253-7311
Jury Duty: 800-778-5879
Hours 8:30 a.m. to 4:30 p.m. Monday through Friday, except holidays.
San Fernando Valley Courthouse
900 Third Street
San Fernando, CA 91340
San Fernando Courthouse Phone Directory
Hours are 8:30 a.m. to 4:30 p.m. Monday through Friday, except holidays.
Transfer Information
The on-site jail at the Santa Clarita Sheriff Station is comprised of 11 cells and has room for about 40 inmates. It is not designed for the long-term housing of inmates, and, as a result, if someone is not bailed out after 72 hours, or if the jail becomes overcrowded, he or she is likely to be transferred to one of the larger facilities downtown. Men are taken to Twin Towers Correctional Facility while women are transferred to the Lynwood Jail.
Twin Towers Correctional Facility
450 Bauchet Street
Los Angeles, CA 90012
Phone 213-893-5100
Twin Towers Visiting Information
Visiting hours at Twin Towers are Saturday and Sunday from 7 a.m. to 3 p.m. and Monday and Tuesday 9:30 a.m. to 12:45 p.m. and 2:30 p.m. to 6 p.m.
Twin Towers jail is a facility for male inmates, and is a much, much larger and busier jail than the one located at the SCV Sheriff Station, and as such, the jail allows for the scheduling of visitations up to 7-days in advance.
Lynwood Jail
11705 Alameda Street
Lynwood, CA 90262
Phone 323-568-4800
Lynwood Jail Visiting Hours
Lynwood jail for women, otherwise called,  C.R.D.F is a much larger county jail than the Santa Clarita jail. Visiting hours are Saturday and Sunday 7:30 a.m. to 12:30 p.m. and 2p.m. to 5:30 p.m. Monday through Friday visiting hours are from 915 a.m. to 1 p.m. and 2 p.m. to 4 p.m.
For more information in regards to visitations at the Lynwood Jail, take a look at their visiting info.
Avoiding Transfer
When an inmate is transferred to one of the larger county facilities, he or she must be processed into the system at their new location. During this period, the inmate cannot be bailed out, even if a bail bond has been obtained. It is only after the inmate has been "processed in" to the larger facility, that he or she can then be "processed out." As a result, inmates who are transferred are likely to spend an additional 24 hours or longer in custody as they go through the system.
If the bail bond process is begun quickly, though, while the inmate is still located at the Santa Clarita Sheriff Station jail, then it is possible to avoid the transfer process altogether and bail him or her out very quickly from Santa Clarita.
If you are unsure as to where your friend or loved one is located, the LASD Inmate Locator can be a useful tool.
If you want fast access to Santa Clarita Inmate Information, give us a call locally at 661-299-BAIL (2245) or toll-free at 877-422-4591. A locally licensed, professional bail bondsman is available 24/7 to take your call.