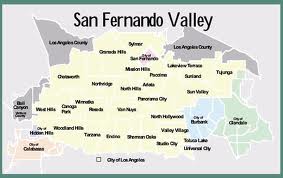 If someone you care for has been arrested and taken into custody and you need fast information on bail bonds in San Fernando Valley, let us be your first contact. We'll get moving quickly for their release.
We service all jails, stations and areas in the San Fernando Valley and can help you quickly, privately and efficiently.
The San Fernando Valley is rich in culture and tradition. It houses several studios which have created the most famous movies ever produced! It's a beautiful valley nestled between Los Angeles and Santa Clarita valley, and is home to many diverse people.
Call us for immediate bail assistance for bail bonds in San Fernando Valley at 818-900-BAIL (2245) or toll-free at 877-422-4591 today. We can help.

Jails We Service in San Fernando Valley

Areas We Service in San Fernando Valley

The Cost of a San Fernando Valley Bail Bond
In California, rate for a bond is 10% of a total bail amount. So, if bail is set at $10,000, the cost of a bail bond will be no more than $1,000. We never include any interest or fees when you work with us. This fee is a non-refundable premium which fully earned when the defendant has been released from custody.
For the payment of the bond, we accept all major credit cards, checks and cash. Further, with employment and fair credit, we can set up an easy payment plan that makes paying for the bond easier for you and your family. Let us know if you require payments and we'll work with you every step of the way.
Inmate Details
Those in custody at any of San Fernando Valley Jails are allowed to make recorded, collect phone calls from a monitored facility phone, but they cannot receive any incoming calls or messages. However, a clergy member, attorney or a bail bond agent may visit them at anytime.
When you call our company, we can let you know if they've been booked into the system. Then, we can provide you their charges, booking number, bail amount, court dates and other pertinent details.
Click here for San Fernando Valley Courthouse Information
Booking and Release Process
At any of the SFV jails, defendants will be booked and processed into the system. Some defendants may or may not be eligible for release from jail. There are various options for release.
Booking and processing is the procedure in where photographs are taken, fingerprints are recorded and a background check is conducted, generally called a live scan.
The booking process can take roughly 45 minutes or longer, depending on how busy the jail is at the time.
Once the procedure is complete, bail will be set per the county bail schedule (provided the defendant is eligible) and a bail bond can be obtained.
Should bail not be posted for the defendant in custody, they will be held at the jail until their first arraignment, which usually will take place within 2 business days. Generally, if a person was arrested on Thursday evening, their arraignment would take place on the following Monday morning.
When you call, you can also help the release process move even faster, by providing us the arrestee's full name and date of birth, and their bail amount. If you don't this information, that's still okay – we'll help you find this information.
Why Choose SCV Bail Bonds?
You can trust you're in the good hands of a local, San Fernando Valley professional bail bondsman. To us, discretion, excellence and integrity are a part of everything we do.
We can answer your questions any time of the day or night. Call us toll-free, from any state at 877-422-4591 or locally at 818-900-BAIL (2245)  for fast, accurate information for any San Fernando Valley Jail. We'll help you get through this time with care, professionalism and discretion.