I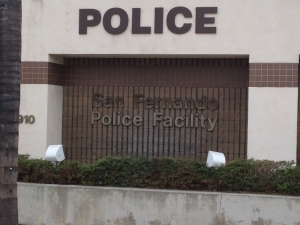 f you found our website today, it's likely someone you care for has been arrested and taken into custody at the San Fernando jail.
You may have never had to search for a bail bond before; maybe it's a new process for you. Let us help you through the all of details with patience and expertise.
A local, licensed, professional bondsman is always available to answer your questions and guide you through the bail bond process in San Fernando.
SCV Bail Bonds is a part of the current San Fernando landscape.
Our caring, local bondsmen will be happy to explain how the bail bond system works and then follow through on the quickest way to release your loved one. We're open 24/7 and we have access to information at all Los Angeles County jails.
If you or someone you care about has been arrested in San Fernando, you owe it to yourself to call SCV Bail Bonds, at 818-800-2245 or toll-free at 877-422-4591 (877 4 BAIL 911) for immediate assistance.
San Fernando Police Station and Jail Information
San Fernando Police Department
910 First Street
San Fernando, CA 91340
Main: 818-898-1267
24 Hour San Fernando Bail Bond Info: 818-800-2245
San Fernando Inmate Information
The City of San Fernando rests in the northeast corner of Los Angeles County's San Fernando Valley. Because of its location, the city is a microcosm of its much larger neighbor, Los Angeles County. San Fernando was named after the nearby Mission of San Fernando Rey de España.
The San Fernando Police Department is a substation which serves Los Angeles County. Anyone arrested in the area will be booked into the station's on-site jail and will likely remain there until they go to court — unless the San Fernando Police Department transfers them.
If that happens, male arrestees will be taken to the larger Los Angeles County Jail such as Twin Towers. After 24 hours, women are generally transported from the San Fernando station to CRDF, or Century Regional Detention Facility in Lynwood.
We can have your loved one released before any transfers occur. We're also here to help you make an informed decision about the best way to handle your specific situation. We can walk you through the bail bond process and additionally help you with credit approval, payment plans, discounts and if needed, collateral approval.
Booking Process
The booking process generally consists of taking the arrestees fingerprints, photographs and conducting a nationwide database check for any warrants, parole or immigration holds. Once that's completed, they will be cleared for bail.
SCV Bail Bonds has an experienced, caring staff of licensed agents, all of whom can explain the booking details and then post bail in the San Fernando area.
You can also read more information about San Fernando Valley Bail Bonds and San Fernando Courts.
We handle all misdemeanors and felonies, such as driving under the influence of alcohol or drugs (DUI), drug/marijuana charges, domestic violence charges and more.
Let us take care of the details for your San Fernando bail bond simply by calling SCV Bail Bonds at toll-free at 877-422-4591 or locally at 818-800-BAIL (2245). We're open 24/7, weekends and holidays, too. Let us help you get through this time with care and professionalism.
June 27, 2012