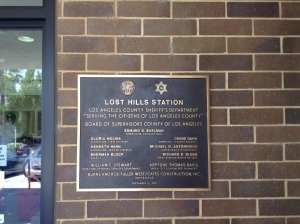 Has a friend, family member or loved one been arrested and taken into custody in Agoura Hills? If so, you need fast, reliable bail bonds information. We'll take all the time you need to answer your most pressing questions and quickly find out the booking information of the one/s being held in custody.
We know that this can be a stressful, trying period. We're  standing by our phones any time or the day or night, to provide you with the kind of friendly, knowledgeable service that will help you navigate through the judicial system. We'll help to get your friend or loved one released as quickly as possible.
And best yet, we can meet with you anytime at your home, our office or directly at the jail where the defendant is being held. Let us know your preference.
Contact a caring bail bondsman with questions about booking, jail location and charges at Lost Hills/Malibu station locally 24/7 at 818-900-BAIL (2245) or toll-free, nationwide at 877-422-4591.
Agoura Hills Police Station and Jail Information
LASD – Lost Hills/Malibu Station
27050 Agoura Road
Agoura Hills, CA 91301
Sheriff Station Phone: 818-878-1808
Agoura Hills Bail Bond 24/7 Information: 877-422-4591
Lost Hills/Malibu Station Inmate Locator 
The Agoura Hills Jail is also known as the Lost Hills/Malibu Jail because it services those areas as well. The facility is small and is not designed to house many inmates.
Male defendants who are not bailed out quickly will be transferred to Twin Towers Jail, one of the the main jails for the city of Los Angeles. Women will be transported to C.R.D.F. otherwise known as Lynwood Jail.
When an inmate is transferred to one of the larger jails, their stay is often extended for 12-24 hours as their booking into the facility is processed. As such, getting the bail bond process started as quickly as possible can limit the amount of time your friend or loved one is incarcerated, and can even help avoid the transfer process altogether.
Booking Process in Agoura Hills
Booking begins after the arrest once an arrestee reaches the Sheriff Station. It includes fingerprinting, photographs, background checks and paperwork which can take anywhere from 2-6 hours to complete.
An arraignment date is given (generally within 48 hours), once booking and processing has finished, and an inmate will typically be held in jail until that time.
However, once booking and processing has been completed, and an inmate is cleared for release, a bail bond can be posted. When a bond is posted for a defendant, their arraignment date is usually pushed back 2 to 4 weeks.
This allows additional time for the defendant to hire a legal advisor/attorney, public defender or take care of personal, work or school business. It also allows the defendant to show up in front of the judge dressed nicely, versus appearing for their arrainment in jail overalls.
Bail Bond Costs
In California, the cost of a bail bond is set at 10% of the total bail amount. So, if the total amount of bail is $15,000, then the cost of a bail bond will be $1,500.
There is certain criteria (if met), that the bail bond can be offered at 8% as opposed to 10%. These include instances in which: The signer /  defendant is already represented by an attorney, member of AARP, active Military Member or uses their home as collateral.
The licensed, professional bail agents at SCV Bail Bonds are proud to honor this legally discounted rate for those who qualify and offer a wide variety of flexible payment plans to fit every budget. We are Accredited members of the Better Business Bureau and proud members of CBAA.
We understand your situation and are here to serve you 24/7.
For additional information on Agoura Hills bail bonds, or to get the bail bond process started anywhere in California, call us toll-free at, (877) 422-4591 or locally at (818) 800-BAIL (2245).