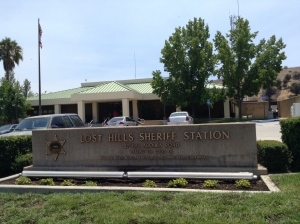 If a friend or family member has been arrested and placed in custody at the Lost Hills jail, let us provide you with the professional and expert services of an SCV Bail Bondsman.
The Lost Hills Jail in Calabasas is administrated by the L.A. County Sheriff's Department.
Anyone who has been arrested in this diverse area –  including , Lost Hills, Agoura Hills, Calabasas, Hidden Hills, Malibu, and Westlake Village,  Chatsworth Lake Manor, Malibu Lake, Topanga and West Lake Village will fall under the jurisdiction of the Lost Hills Jail and Sheriff's Department.
When this happens, they will most likely be taken to Lost Hills Jail for booking and processing into the system. The booking process generally includes, taking their photographs, mug shots, fingerprints and conducting a nationwide background check.
We realize it may be difficult being patient, however this process can take anywhere from 2 to 4 hours to complete.
For additional information, please feel free to call us, day or night at (818) 900-BAIL (2245) or toll-free 877-422-4591  to speak with a licensed bondsman. We post bonds at the Lost Hills Jail and anywhere throughout Southern California.
Lost Hills / Malibu Station and Jail Information
Lost Hills/Malibu Sheriff's Station
27050 Agoura Road
Calabasas, CA 91302
Station/Inmate Information: (818) 878-1808
24 Hour Lost Hills Bail Bond Info: (818) 900-2245
Inmate Information
The Lost Hills Jail facility is small, therefore, if it becomes too crowded or if an arrestee has any pre-existing medical problems, there's a strong change they will be taken to the Mens Central Jail, Twin Towers or the  Lynwood Jail for women.
If that happens, it can take as much as 24 hours to bail them out. Fortunately, our bail agents are local to the Lost Hills Jail, so we can have the one you care about most, released quickly from custody.
Our bail application is easy to understand and fill out. We also provide a bail by fax or email service, or we can have a bondsman deliver it to you in person, at any location you would like.
Cost of Bail in California
In California, the cost of a bail bond is 10% of the entire bail amount. Because bail bonds in the state of California are the highest in the nation, we offer our clients a cost-effective alternative to attempting to pay such a large amount all at once.  For example, if the bail is set at $20,000, the non-refundable fee to bail them out will be $2,000.
We never add on any surprise costs or taxes. For payment, we also accept cash and major credit cards. And with good credit or home ownership, we can work out a flexible payment plan that's comfortable for you and your family to handle. Our consultations are always free.
We also have a system that links us to the jail so we can quickly update you on your friend or loved one's status. We always conduct our consultations with you privately and discreetly. Trust that you will be in good hands with a professional that cares.
When you need a bail bond posted right away at the Lost Hills Jail, call SCV Bail Bonds at locally at (818) 900-BAIL (2245) or toll-free 877-422-4591.  No matter what your situation is, we can help!