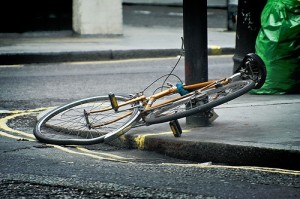 Hit and run? DUI? These charges can be found under California penal code section VC 20001-20006. Punishment for anyone who flees a hit and run accident is guaranteed to include steep fines, jail time and suspension of a driver's license.
If you or someone you know leaves an accident, they could also be charged with vehicular manslaughter if the person they hit dies. Even if it was a dog, cat or other animal that was hit – the driver can still be charged with animal abuse.
If the hit resulted in a person or animal getting injured or property damage. It will likely be viewed as a misdemeanor. But if the driver failed to stop after hitting a person, animal or property the charges will be increased to a felony.
If they are drunk or drugged, don't render emergency assistance to the victim, or fail to identify themselves — it gets worse!
Even if the driver didn't cause the accident, but still panicked and fled the scene; the simple the act of leaving – not the accident itself — is what people are typically arrested and jailed for.
So please remember: Anyone involved in a vehicular accident of any kind must remain at the scene until the police or sheriff department arrives and makes a report.
For additional bail, charge or booking information about Hit and Run Charges in California, call SCV Bail Bonds now toll-free, nationwide at  877-422-4591 (877 4 BAIL 911). 
Overview of Hit and Run Charges
You may be charged with a Misdemeanor hit and run if you:
Don't identify yourself to the other party or parties involved
Damage another's property in the accident.
You may be charged with a Felony hit and run if:
Someone (other than yourself) or an animal was injured or killed:
Both misdemeanor and felony California hit and run laws apply to every accident, regardless of:
Who was at fault,
The amount of damage inflicted, or
The seriousness of the injury/injuries.
What to do at the Scene of an Accident
If you are involved in an accident where someone (other than yourself) is injured or killed, California Vehicle Code 20001 requires you to do the following:
Stop your car at the scene.
Provide identifying information (along with the identifying information of any injured passengers) to the other involved party/parties and on-scene officers. This information includes names and current addresses, the vehicle's registration number, and the name and current address of the car's owner (if you were driving someone else's car).
Provide reasonable assistance to injured person(s) and/or help secure medical attention. This includes transporting (or arranging transportation for) any injured person and calling 911.
Provide your driver's license and the driver's license or other identification of your injured passengers to the other involved party/parties and on-scene officers.
Was someone killed in the accident?
Immediately contact your local police department or California Highway Patrol office with the above information, especially if there is no on-scene law enforcement agency.
These requirements apply to every accident involving injury or death regardless of who was at fault or how serious the injuries were. Even if the other driver is 100% responsible and/or only suffers a cut or bruise, you could still be arrested if you don't follow these rules. It also means that you have the same obligation to your own passengers if they are injured or killed. Fleeing the scene after your passengers are injured will still result in your arrest.
Providing your insurance information isn't specifically mentioned under California Vehicle Code 20001 VC. This is because this information (along with your vehicle identification number) must always be exchanged between drivers who are present at the scene of any accident under California Vehicle Code 16025 VC. Failing to do so is punishable by a maximum $250 fine.
These charges fall under "Hit and Run" in California Penal Code Hit and Run Charges Section VC 20001-20006
Bail Amounts for Hit and Run Charges
Bail amounts are set according to each California County's Bail Schedule so they will vary. A judge can also set bail at or above the amount, or even refuse bail in some Hit and Run arrests, particularly if a serious injury or death occurred.
Penalties and Sentences for Hit and Run Arrests
No Death and No Injury: Vehicle Code Section 20002(a) outlines the statute concerning hit and runs that didn't result in injuries or deaths, but did involve property damage.
This charge cannot be filed as a felony; it is always a misdemeanor – even with a DUI. There is no mandatory minimum custody requirement for a conviction, but there is a maximum sentence and up to a $1,000 fine. To be guilty of misdemeanor hit and run with property damage only you must have had been the driver in an accident that involved damages to a vehicle or other property, knew that the accident had occurred and knew that damage occurred – but still refused to stop.
No Death or No Permanent Injury: Vehicle Code Section 20001(b)(1) can be charged as a misdemeanor or a felony.
This charge can involve a DUI in connection with the hit and run but can also be associated with a person isn't impaired at all. A hit and run violation with no serious permanent injury carries no mandatory minimum of time in custody but it does carry a maximum of one year in jail. If the defendant is convicted of a felony, they can face up to three years in prison. A minimum fine of $1,000 is required upon conviction for this offense, regardless of whether probation is granted.
Death or Permanent Injury: A violation of Vehicle Code Section 20001(b)(2), similar to Vehicle Code Section 20001(b)(3)
Says that whether or not there was a DUI, it can be filed as a felony or a misdemeanor. However, while the minimum fine remains the same, the mandatory minimum sentence is 90 days in custody. The maximum sentence with no probation granted is also enhanced, up to four years in state prison and/or a a maximum fine of $10,000.
Posting a Bail Bond for Hit and Run Charges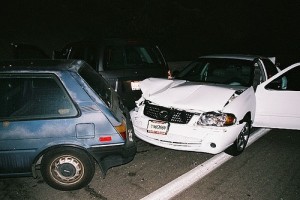 When it comes to posting bail for hit and run charges, SCV Bail Bondsmen are undisputed experts. If you, a family member or friend has been arrested for a hit and run, call us immediately.
We can generally have them released and on their way home in no time. SCV Bail Bonds offers 24-hour bail bond services and free consultations. We'll take all the time you need to explain how we post bail and to answer your most pressing questions about the bail process.
We have access to every jail in Southern California, Ventura County, as well as the rest of the California. Our agents can give the latest information on a jail location, the arrest and exact nature of the charges. We also have a lot of experience with DUIs and any other charge an arrestee can get 'hit' with.
Upon approval of the bond, all you have to do is read, complete and sign our easy application form, which only takes a few minutes to fill out. We can send you the application and contract by fax or email.
Or, if you prefer, you can visit us online at our website and download the application. We're also happy to deliver the contract to your home, office, the jail – anywhere that is convenient for you. Why? Because we're in your corner!
In California, hit and run charges range from misdemeanors to felonies. Whether or not someone was drunk or drugged also plays a role in the severity of their charges. But even in the most extreme cases, if the defendant qualifies for bail, an SCV Bail Bonds agent can still help that arrestee get out of jail, fast.
Flexible Payment Options
To pay for the bond, we take all major credit cards, cash, direct deposit, bank wire and checks (upon prior approval.) We also offer flexible payment options with your good credit or home ownership.
We are accredited members of the Better Business Bureau and are proud members of the California Bail Agents Association. Please read why choosing us can really make a difference in how fast a defendant gets released from jail by visiting our bail articles and information page or giving us a call.
SCV Bail bonds is open 24/7 weekends and holidays. We can send out our easy application by phone, fax, email, online or in person. Call now at, 877-422-4591 (877-4-BAIL 911). We're here to help you with dignity, respect and privacy.
We serve all California Jails and Courts and can provide you additional booking, bail amount and jail location information for Hit and Run Charges in the following areas:
Santa Clarita Valley – 661-299-2245
Los Angeles County – 213-373-5245
Ventura County – 805-874-2245
San Fernando Valley – 818-900-2245
San Gabriel Valley – 877-422-4591
Antelope Valley – 661-299-2245