If someone you know has been arrested and taken into custody at the Santa Clarita Valley Sheriff Station and needs your assistance to bail them out, it can be stressful for all those involved. We understand, and we can help.
When a person is arrested and taken into custody, it usually comes as a surprise – leaving those who are close with the arrestee shocked and anxious about what to do next. When it comes to bail bonds in Santa Clarita, there's really only one answer: Us!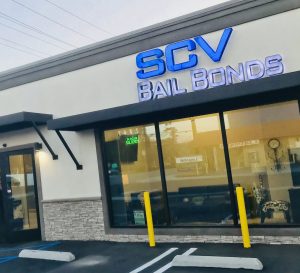 Our office at SCV Bail Bonds, located just right down the street from the new Santa Clarita Sheriff's Station Jail. We are open 24 hours a day, 7 days a week. Our office is conveniently located at 20605 Soledad Canyon Road in Canyon Country!
Consistently chosen as the #1 bail agency by the Santa Clarita community, our dedication and promise to always uphold the protocols of bail come first. When you call us, no matter what time it is, there are no lengthy automated systems or requests to leave a message. You will always speak directly with a licensed, professional Santa Clarita bail bondsman who will be more than happy to answer any questions you may have, or to get the bail bond process started as quickly as possible.
Speaking of the bail bond process, it's probably a lot faster and easier than you might think. It's our aim to take the mystery out of posting bail for someone. All we need is a bit of information on the arrestee (their full name, birth date, and date and time of arrest) so that we can locate him or her within the system and verify their eligibility for bail. Once paperwork and payment are complete, we dispatch one of our agents to the jail and your friend or loved one will be released shortly thereafter.
If you're unable to travel, or aren't in the area, that's alright. A competent and professional, Santa Clarita Bail Bonds agent is more than equipped to handle the entire bail bond application process from start to finish via phone, fax or email. We can also work simply from your tablet or mobile phone! What works best for you will always work best for us – no matter what. Fast, local Santa Clarita Bail Bonds, that's what we're all about.
Let our family help yours, today.