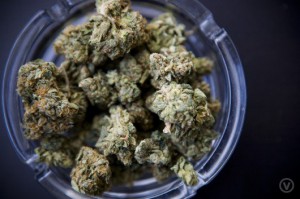 California Health and Safety Code 11362.5
Has a friend or loved one been arrested and charged with possession of medicinal marijuana in California? Are you confused as to whether or not it is actually a crime?
If so, you're probably not alone. Qualified individuals are able to possess marijuana for medicinal uses as far as the state is concerned, however, it is the federal government that continues to view possession of marijuana, whether for medicinal purposes or otherwise, as a crime.
If you are searching for bail bonds for possession of medical marijuana charges in California, we can help. Call us toll-free at 877-422-4591, 24 hours a day.
First, it is important to know what exactly is meant by "medical marijuana" as per the State of California's Health and Safety Codes. Possession of medical marijuana charges in California are something of a slippery-slope. Possession of medical marijuana is protected under state law as per California Health and Safety code 11362.5, also known as the Compassionate Use Act of 1996, which says:
"All seriously ill Californians have the right to obtain and use marijuana where that medical use has been deemed appropriate and recommended by a physician who determined that person's health would benefit from the use of marijuana for: cancer, anorexia, AIDS, chronic pain, spasticity, glaucoma, arthritis, migraine, or any other illness for which marijuana provides relief."
It also extends protections to those who would possess medical marijuana as well as caregivers who prescribe it so that they cannot be held criminally accountable for possessing or recommending it.
Penalties and Sentencing
Because possession of medical marijuana is in a sort of "limbo" where it is both legal and illegal at the same time (due to conflicting state and federal laws), it will often depend on the officers involved in each incident whether or not a person will be charged with a crime.
If charged, possession of marijuana less than 1 ounce (28.5g) is classified as an infraction that carries with it a fine of $100. Should the individual be over 18 years of age, and located on school property while school is in session, then the charges can be upgraded to a misdemeanor that carries with it up to 10 days in county jail and a maximum fine of $500.
If an individual is found to possess more than 1 ounce of marijuana, then they will be charged with a misdemeanor and could face up to 6 months in county jail. It should be noted that the charges and penalties above are for possession of marijuana for personal use.
Other forms of marijuana, such as hash, wax, and oils, are considered "concentrated cannabis" and the possession of which could be charged as a felony. If convicted, a defendant can face a maximum of sentence of 2 to 3 years in state prison. If the charge is not upgraded to a felony and remains a misdemeanor, then the penalty includes up to 1 year in county jail and a $500 fine.
Why Bail Someone Out?
Why bail someone out of jail, you ask? That's a good question and one that comes up often. When someone is arrested and taken into custody, they are unable to go see to the day-to-day activities of their life.
When this happens jobs can be lost, classes can be failed and family obligations are unable to be met. Even if the charge is minor, and subsequent sentencing light, the repercussions for simply being unable to pay one's rent or mortgage on time can have far-reaching effects. That is why it is best to bail out a friend or loved one, should they get arrested.
The Bail Bond Process
It all begins by calling and speaking live with a licensed, professional bail bondsman with SCV Bail Bonds. We will ask you a few short questions in order to locate your friend or loved one and verify their eligibility for bail. Once established, it is simply a matter of filling out the bail bond application forms.
It doesn't matter whether you are, or not located within the State of California. We work with friends and families on a national level and can easily fax or email you the paperwork to begin the bail process right away.
Once this has been completed, one of our bail agents will be dispatched to the jail where the defendant is located to post the bond. After that, your friend or loved one should be released in a few hours.
If you have additional questions about bail bonds for the possession of medical marijuana charges in California, feel free to call us any time. A professional, caring bail bondsman is ready to take your call 24 hours a day, 365 days a year and is equipped to answer all of your questions and get the bail bond process started as quickly as possible.
We can be reached toll-free at 877-422-4591. We're here to help.