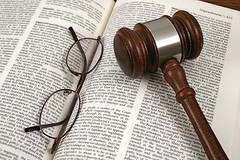 California Penal Code Section 639-653.2
The term bribery often brings with it images of meetings in dark alleys, or parking garages where men enshrouded in shadow whisper a few words while a small envelope changes hands.
The next thing you know, a key witness refuses to take the stand, or a politician votes against his or her constituents on a controversial law. Whatever the case may be, when news of these situations come to light, bribery charges often follow.
The California Penal Code has a pretty broad definition of bribery. It can be summarized basically as any attempt to influence, through either gifts or money, any public official in the course of that official's work. Bribery law actually spreads through a number of other laws (PC 639-653.2) in the California Penal Code, including:
Bribery involving ministerial and executive officers and public employees
Bribery involving California Legislative officers
Bribery involving supervisors and public corporations
Bribery involving judicial officers and jurors
Bribery involving witnesses
Commercial bribery
Charges, Fines and Sentencing
Bribery almost always results in a felony charge in the State of California, and the sentence for the crime can be pretty severe. The penalties include, but are not necessarily limited to: imprisonment in county jail or California State Prison, fines, and in the case of public officials, forfeiture of their respected office.
The fines levied in bribery charges will depend on whether or not the bribe was actually received. If so, then the fine will be either $2,000 or the actual amount of the bribe.
If the bribe was not actually received, then the fine could be anywhere between $2,000 and $10,000. In the case of public officials, regardless of whether or not the bribe was received, forfeiture of office is always required.
If someone you know or love has been arrested and taken into custody on bribery charges in California, you've probably got a lot of questions. Call us at SCV Bail Bonds any time day or night to speak with a licensed bail bondsman who can get you the answers you require. We can be reached toll-free at 877-422-4591.
Bail Bond Process
It isn't necessary for you to appear at the jail in order to secure a bail bond. As a matter of fact, you don't even need to leave your house!
All you need to do is give us a call and provide us with a little bit of information and we can begin the bail bond application process for you right over the phone.
The information required is the inmate's name, birth date, time and date of arrest. If this information isn't readily available to you, we are happy to handle the bail process by fax or email as well. We can also meet you at your home, or the jail where your friend or loved one is located in the case that you're already there.
How Much Does Bail Cost?
The bail amount for bribery will depend on the exact charges against a defendant as based upon the bail schedules of each individual county.
In California, the cost of a bail bond is set at 10% of the total bail amount. So, if the total amount of bail is $15,000, then the cost of a bail bond will be $1,500.
We at SCV Bail Bonds are proud to offer creative financing solutions for those who qualify.
Paying For a Bail Bond
It is possible to make the bail bond payment in a number of ways. We accept all major credit cards including: Master Card, Visa, American Express and Discover, which our clients feel is the easiest way to pay for the bond.
Bail bonds can also be paid by business or personal check (o.a.c.), money order, wire transfer and bank account transfer. It is possible to receive a discounted bail rate of 8% (as opposed to the traditional amount of 10%) for those who qualify, including: active union members, active military personnel, senior citizens 55 and older, and those who have retained private counsel.
If you have any questions pertaining to bail bonds for bribery charges in CA, or simply need answers, call us today at 877-422-4591 and speak directly with a licensed bail bondsman. We're available 24/7 to answer your questions and to help get your friends or loved ones out of jail quickly.