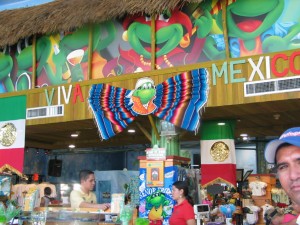 The stages are being set, the Mariachi bands are tuning their instruments and the people of Santa Clarita are getting ready to celebrate the rich cultural diversity and tradition of Cinco de Mayo, which falls on a Saturday this year.
In Santa Clarita, the day takes on an even bigger meaning for the people who live there. It's a community celebration which happens each year in Old Town Newhall. Last year the day fell on a Thursday and drew over 5,000 people to the Newhall, Main Street festivities. This year it is likely that many more will attend.
There's a large Latino based business community in Santa Clarita and the SCV Latino Chamber of Commerce has a strong membership.
The Old Town Newhall Cinco De Mayo events and block party will run from noon to 9 p.m. along Main Street in Old Town Newhall between 6th and 8th streets. There will be performers, a DJ party and a diverse array of traditional foods.
This year marks the 150-year anniversary of Cinco de Mayo which commemorates the Mexican army's victory over French soldiers at the Battle of Puebla on May 5, 1862.
Many will choose the day to celebrate, dance, eat and just have some plain, ol' fun. Unfortunately, those who imbibe on too many Dos Equis, Coronas or Margaritas may choose to get behind the wheel. To that we say, "designate a friend to drive or call a taxi."
Santa Clarita Valley has a program designated, Santa Clarita Valley Safe Rides." Their rides are offered to Santa Clarita Valley teenagers, who have an emergency such as they or their driver have been drinking. They are open on Friday and Saturday nights, 52 weeks a year from 10 PM to 2 AM.  They can get backed up early so contact them directly at 661-259-6330.
Again, it's important to remember that "buzz driving is drunk driving," as explained by Lieutenant Ron Katona, Officer in Charge of the Traffic Coordination Section, Emergency Operations Division of the L.A.P.D.
They recommend taking note of the following for your Cinco De Mayo day celebration:
If you go out for the day, take phone numbers with you to call a friend, family member or taxi.
Before the Cinco De Mayo festivities begin, make plans to get home safely.
Designate a friend or family member as your safe, sober driver.
Leave the keys to your car at home.
Remove the car keys from someone who is about to drive impaired and help them to get home safely.
If you see a possible drunk driver on the road, call 911.
And if you or someone you know is arrested on Cinco De Mayo, call and speak with a local, Santa Clarita bondsman at SCV Bail Bonds. They are a family owned agency in the valley who can quickly guide you through the bail process and discuss your individual situation any time of the day or night at their local number, 661-299-BAIL (2245).
You can also stop by the SCV Bail Bonds booth on Main Street, Newhall on Cinco De Mayo! Owners, Robin Sandoval and Nuri March will be there handing out their custom made, Santa Clarita Valley emergency key cards. So make sure to stop by and get your very own while they last.
So have fun, be safe and have a happy Cinco De Mayo everyone!