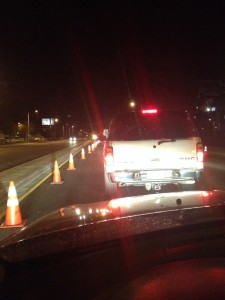 Last weekend, the Santa Clarita Valley Sheriff's Station deputies conducted two DUI checkpoints in the Santa Clarita Valley.
As a matter of fact, I happened to drive right through one of them near Foster's Freeze while I was driving eastbound on Soledad Canyon Road.
Deputies assigned to these DUI checkpoints look for signs of impaired driving due to drugs and/or alcohol as well as to ensure that all motorists possess proper driver's licenses.
DUI checkpoints tend to yield a mixed bag of results. Depending on the location and the date, several arrests can be made, or as little as two or three. According to the Santa Clarita Valley Sheriff's Station, 18 arrests were made this last weekend.
The Sheriff Department's main purpose of conducting the DUI checkpoint is to deter those who would otherwise choose to drive under the influence. But why all the hush, hush about where the DUI checkpoints will be located?
Keeping the exact location a secret sends a message to the unsuspecting public that the local law enforcement agency, (in this case the SCV Sheriff's Station deputies), are on the lookout for individuals who would choose to drive under the influence of alcohol or drugs, and that it's a better idea to find a designated driver or simply call a cab.
In Santa Clarita, we're fortunate to have a service called "Designated Drivers of Santa Clarita," where for only $20 bucks, they'll pick you up from wherever you are and get you home safely. They will also get your car home safely, yes, all for just $20.00. Give them a call next time you've had a bit to drink out on the town. They'll take good care of you at (661) 313-8336.
Taking a taxi is also always an option. In the SCV, it shouldn't cost more than about $20 to get wherever it is you need to go if you call a cab. Even if you live on the outskirts and it costs a few dollars more to get home, it's a small price to pay in order to avoid the penalties of receiving a DUI.
Those penalties happen to include, but are not necessarily limited to jail time, license suspension/revocation, DUI classes, fines and fees that can be more than $10,000 in total and a change in the individual's insurance rates.