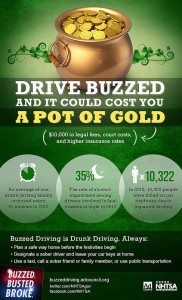 St. Patrick's Day is this coming Monday! It's celebrated on March 17th every year to commemorate the Patron Saint of Ireland and his work in spreading Christianity to the Emerald Isle, and to also celebrate and enjoy Irish culture and heritage.
So what are your plans this St. Patrick's Day weekend? If you don't know what to do just yet, why not try heading out to one of the many celebrations being held throughout Los Angeles County?
There's the 3rd Annual Rock & Reilly's Block Party being held in West Hollywood, where revelers will be able to enjoy over 100 kegs of beer, 12 bars, raffles, prizes and, of course, food!
If you're interested in something a little more family-friendly, there's the 12th Annual Los Angeles County Irish Fair and Music Festival at the Fairplex in Pomona. With step dancers, story tellings, Irish musicians and traditional Irish food like corned beef sandwiches, bangers and mash, and fish and chips, there's something for the whole family to enjoy.
If that isn't your thing, what about heading to the Leprechaun Leap 5k in Tustin? It's a 5k event designed for runners, joggers and walkers that's put together to benefit the Tustin Community Foundation and the Tustin Chamber of Commerce. There will be musicians and awards at the end of the 5k run, as well as a prize for the best St. Patrick's Day costume!
St. Patrick's Day Drinking + Checkpoints = DUI's
Whatever you decide to do this weekend, make sure to exercise caution and remain safe. Sure, sport your green t-shirts, shamrock pins, crazy hats and green socks, but also plan ahead before you dive into your traditional green beer drinking celebration with friends.
St. Patrick's Day is synonymous with Irish culture, but it's also synonymous with drinking, and DUI arrests almost always see a spike in occurrence.
The LAPD will have several DUI checkpoints in various areas in and around the city.
The L.A. County Sheriff's Department issued this information:
"The Avoid the 100 Los Angeles County DUI Task Force will be deploying 87 roving DUI patrols this St. Patrick's Day as well as 13 DUI checkpoints throughout the county looking to stop and arrest drivers who are impaired by alcohol or drugs."
So remember to stay diligent, be safe and have a Happy St. Patrick's Day from our SCV Bail Bonds family to yours!