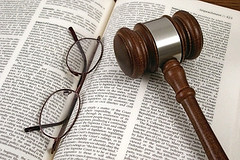 At SCV Bail Bonds, we never judge, we only want to help. We are often asked, (in situations of Domestic Violence charges, etc.,) by spouses, significant others and other family members, how to go about obtaining a restraining order in california against a defendant.
We always suggest seeking legal advice, or further, contacting the local Sheriff or Police Department if they are in serious jeopardy or their family is in imminent danger; as a piece of paper cannot protect them against any harm.
Often, the family member would like to quickly obtain the restraining order before the defendant has been released from custody/bailed out. Many times, they are worried the person will come back to their homes. Family members are fearful and afraid of a heated argument breaking out, or worse.
Below Are Suggestions on How to "Self-File" a Restraining Order:
One way to acquire a restraining order form is to ask the arresting officer to issue a Temporary Restraining Order, immediately following criminal or violent domestic related incidents. What this means is you have the right to ask for a Restraining Order form in your very own home, work, or any other crime scene, before the Sheriff/Police leave with the arrestee.
If you are seeking a restraining order for a non-domestic violence related situation, you will need to contact the court clerk at your local courthouse and go there to file.  Restraining order forms can be found in any courthouse and they are free.
If you have bail bond related questions now, our consultations are always free of charge. Please call SCV Bail Bonds for more information at, toll-free  877-422-4591  or  (877 4 BAIL 911).
 Overview of California Restraining Orders and How to Serve Them
Obtain necessary paperwork from the Court Clerk's Office
Fill out the document neatly; anything illegible won't be accepted for filing
You must hand in your completed paperwork for review to most Court Clerks before 1:00 pm if you want to appear before a judge that same day
File the restraining order with the Court Clerk after the judge signs it
Have the defendant served with a copy of the restraining order.  If he / she was not present at the hearing, use a Proof of Service Form
There's no filing fee for Criminal Restraining orders or Domestic Violence Restraining Orders but there are filing fees for Civil Harassment Restraining Orders.  For more information, please visit the Los Angeles Superior Court website, for the restraining order forms.
The person you are filing a Restraining Order against may be served by anyone other than yourself, who is eighteen years or older.  The order must be delivered by hand – it can't be left in the mail or on someone's doorstep.
After the defendant is served, a copy of the 'Proof of Service Form' needs to be filed at your local police department, along with a certified copy of the original Restraining Order.  You can always hire professional servers to help you and they can be found on line or through a phone book.  Check around because their rates vary.
What if I Haven't Yet Been Harmed, Only Threatened?
Anyone can have restraining orders placed against the person who is responsible for just the act of threatening violence, in order to prevent them from coming within a certain distance to carry out that threat — regardless of where they might be or what they might not have done.
For example, harassing phone calls or notes left on your door are enough to warrant getting a Restraining Order.  As you can see, their purpose is to keep the individual from making any threats 'long distance' from you or a loved one.
What If I'm Unjustly Accused and Have Received a Restraining Order?
Sometimes, an individual is unjustly accused of threats or harm and desires to dispute a restraining order.  Whenever the police enter a scene where a domestic argument, or violence, is taking place, it also dangerous for them.
Their first action must be to diffuse the situation as safely and quickly as possible, make arrests, and let the courts sort everything out later.  If you have been issued a Restraining Order you must obey the terms until you can dispute it in court.
What About Returning to My Residence After Being Charged with Domestic Violence?
If you have been charged with Domestic Violence, it is possible that a restraining order has been issued against you. Unless you are absolutely sure this is not the case, it is not prudent to return to your residence or to the place where you were initially arrested, as you could be re-arrested immediately upon your return to that location.
If you need get your personal belongings, etc., it is best to request a "Sheriff or Police Assist/Escort" from the jailer immediately upon your release from custody. A Sheriff Deputy or Police Officer will meet you at your home/office or other location. That way, the actions between yourself and others involved are monitored while keeping the peace.
At SCV Bail Bonds, we believe in everyone's constitutional right to bail so that all parties involved can seek the legal council they need for their day in court.  They can also seek the therapy they need or return to school or work, so they can continue to support their family, even if it's from a distance.
Bail Amounts for Domestic Violence Charges
Domestic violence charges can come with bail amounts ranging anywhere from $20,000 to $50,000 in Los Angeles County.
However, if you post a bail bond with us you will only pay 10% percent of that amount.  Therefore, if the bond is set at $50,000, the bail amount will be $5,000. This amount is non-refundable once the defendant has been released from custody.
Speak to one of our professional agents who can answer any of your questions and work out a flexible payment plan to fit any budget, with your good credit or homeownership. We also take payment for the bond with credit card, cash, direct deposit, checks and wire transfers.
Questions About Someone Who Has Been Arrested?
If you have questions about someone who has been arrested and charged with domestic violence, requiring a bail bond, (or you have any other kind of bail bond related questions), please don't hesitate to call one of our caring, licensed agents. SCV Bail Bonds has experience posting bail for clients facing Domestic Violence charges, throughout California.
We understand; are very aware of these situations and want to help, especially any victims of domestic violence, but we also want to help the accused; because his/her innocence or guilt must legally be determined by a Judge in a court of law before being convicted of any wrongdoing.
We treat all of our clients with dignity and discretion.  See why choosing us can make all the difference to you and your family.
Posting Bonds By Fax, Email or Online 24/7
We post bonds 24/7 to all jails in Southern California and Ventura County. Our application process takes only a few minutes, during which we'll ask a few questions about the defendant.  Then we'll send you our bail bond contract by fax, email or online at our website.
We'll take the worry and confusion out of posting bail, while answering your questions patiently and privately.
We can even send a licensed professional to meet with you in person in your home, work, or at the jail where the defendant is being held. Just let us know what works best for you.
Numbers to serve you in Southern California and Ventura County
Call SCV Bail Bonds toll-free at 877-422-4591
Santa Clarita / Antelope Valley: 661-299-BAIL (2245)
San Fernando Valley: 818-900-BAIL (2245)
Los Angeles Area: 213-373-JAIL (5245)
Ventura County: 805-874-BAIL (2245)