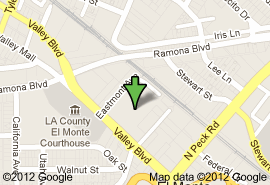 At SCV Bail Bonds, we've helped many people throughout San Gabriel Valley get out of jail quickly. Are you confused and worried because your loved one, friend or co-worker has been arrested and taken to the El Monte Police Station and jail?
Our knowledgeable, professionally licensed bail bond agents can cut through the confusion and give you solid answers about the bail bond process. We can even tell you how far along your arrestee is moving, in the booking process.
We also know how to resolve the most difficult bail bond problems to get the person you care about most, home the very same day you call.
Has someone you know and care for been arrested and taken to the El Monte Jail? Call SCV Bail Bonds, toll free at 877-422-4591 (877 4 BAIL 911) 24/7 for fast, professional assistance.
El Monte Police Station and Jail Information
El Monte Police Station
11333 Valley Blvd.
El Monte, CA 91731
Main: (626) 580-2100
El Monte Bail Bond 24/7 Information: 877-422-4591
El Monte Jail Inmate Locator
The El Monte Police Department and jail uses state-of-the-art equipment to accurately identify prisoners. They also transfer pre-arraigned defendants to the local courthouse.  The police department itself, is a substation that is open 24/7.
During the booking process, the defendant will be photographed, fingerprinted and their information will be sent out to a nationwide database to check for any parole holds, warrants, immigration holds, etc. This process can take from 2 to 4 hours or more, depending upon the defendant's unique situation.
Once they have cleared the booking process, we can post the bail bond for their release.
Anyone arrested can remain in El Monte's on-site jail facility until their first court date, however, if they aren't bailed out, they are usually transferred to the Inmate Reception Center at Twin Towers Jail, which then decides which county jail the inmate will be housed in. Female arrestees will generally be transported to CRDF or Lynwood Jail.
Needless to say it is in the inmate's best interest to be bailed out of the El Monte substation, otherwise it can take many hours, even days for them to be processed out of a larger, Los Angeles County facility.
Just like the El Monte Police Department, SCV Bail Bonds never closes. If you call us you will always be helped by one of our live agents – we don't defer our clients to an answering service or leave them waiting with a message machine.
SCV Bail Bonds Financing Plans
In California, the cost of a bail bond is set at 10% of the total bail amount. So, if the total amount of bail is $15,000, then the cost of a bail bond will be $1,500.
We know this may be more than a person has on hand, but if qualified, we'll work out a payment plan that suits every budget. SCV Bail Bonds never charges a fee for financing and we can regularly offer no collateral bail bonds.
If you have good credit and are a homeowner, you will easily qualify. However, even if you don't fit this criteria, there's still hope. We advise asking a family member or friend to co-sign the bond with you.
We also look at other factors, such as, how long you've lived in El Monte, San Gabriel Valley or anywhere else in California, your length of employment and your credit rating. If you're not 100 percent perfect, no worries, few people are. We can be flexible. And when you call us, we cut out any agonizing wait time by letting you know if you qualify for financing within minutes.
Please give SCV Bail Bonds the opportunity to work with your special situation by calling us, toll free at: 877-422-4591 (877 4 BAIL 911)
SCV Bail Bondsman For The El Monte Jail
An SCV Bail Bondsman is on call 24 hours a day, seven days a week. We offer free consultations and payment plans for financially responsible clients, and we create/tailor a bail bond application that contains all the necessary information as required by the California State Department of Insurance – within minutes!
We can send the application and contract by fax/email/ or deliver it in person. You can also download the application/contract directly from our website. Once completed and approved, we will post the bail bond. We can then update you with additional information during the posting process.
SCV Bail Bonds is an licensed, accredited bail bond company that can help with any bail bonds in the El Monte area or anywhere throughout Southern California. We're proud, accredited members of the Better Business Bureau and The California Bail Agents Association.

When someone is arrested and taken to the El Monte Jail, call our Toll Free Number at 877-422-4591 (877 4 BAIL 911). For fast El Monte bail bonds information, let us help you.