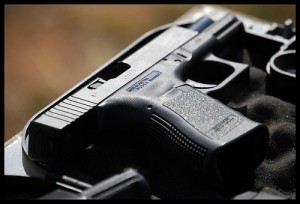 California Penal Code Sections 240-248 Assault with a Deadly Weapon (commonly referred to as an ADW or aggravated assault) is one of the more serious crimes in California. It is punishable by fines ranging from one to twelve thousand dollars and/or by imprisonment in the county jail not exceeding six months if it is a misdemeanor – but much longer if it is a felony. ADW, is an assault committed with any type of deadly weapon or by means of force that is likely to cause great bodily injury to another. You really have to think broadly about the choices of weapon used, because 'weapon' in this case can be defined as anything from a rock, to a bottle of water, to a gun, knife/shiv, brass knuckles, etc. Even if the victim escapes unharmed, just the intent of the attack can still be considered deadly. Bail amounts for assault charges vary but they are almost always steep – even if this is the first time the defendant has been arrested for such a crime. Regardless of the amount, SCV Bail Bonds will always provide bail bond assistance for Assault with a Deadly Weapon charges in California – unless the attack is severe or has resulted in death, in which case bail cannot be granted. Call a professional, licensed bondsman at SCV Bail Bonds now toll-free, nationwide at 877-422-4591 (877 4 BAIL 911) for fast, expert assistance.
Overview of Assault with a Deadly Weapon Charges
Specific code sections and punishments apply, depending on the type of weapon used in the assault. Other sentencing charges may be also be used against an arrestee to increase prison time. For instance: A Deadly Weapon, other than a Firearm: Anything that can be turned into a weapon falls under this charge. Even something as 'innocent' as a pencil that is used in an assault makes the grade. This type of charge usually ends up being a misdemeanor. This charge carries a maximum of one year in jail and/or a fine of up to $10,000. But it can also be a felony that's punishable by up to four years in prison. A Firearm: Gun assaults can be charged as either a misdemeanor or a felony, depending on the circumstances. Whether or not the type of gun was a semiautomatic, machine gun, or assault rifle also matters. As a misdemeanor, the minimum jail time is six months. The maximum is one year, with fines reaching up to $10,000. A felony charge carries up to four years in prison. A Semiautomatic Weapon is used: The sentencing range can go as high as nine years. A Machine Gun or Assault Rifle is used: Can carry a prison term of up to twelve years.
No Weapon Required
People can be convicted of violating this code section even if no weapon was used. If the victim is a police office or a firefighter, arrestees face a longer sentence. However, this only applies if the person was lawfully doing their job at the time of the attack. These charges all fall under "Assault with a Deadly Weapon" in California Penal Code Sections 240-248
Bail Amounts for Assault with a Deadly Weapon
Bail amounts are set according to each California County's Bail Schedule so they may vary. A judge can also set bail at or above the amount, or even refuse bail in some Deadly Assault Weapons arrests.
Penalties and Sentences for Assault with a Deadly Weapon
There are a wide range of possible punishments for California assault crimes – everything from a misdemeanor conviction, which is punishable by up to one year in jail — or a felony conviction that can be used against the arrestee as part of the three strikes law. Felony ADWs are punishable by up to 12 years, depending on what type of weapon was used. 
Call us For Assistance with ADW Charges
If you, or someone you know has been arrested on this charge, you won't have to add to the psychological shame and turmoil you're probably already dealing with by telling us unpleasant details. Assault with a deadly weapon is a pretty serious charge, but we are not here to judge, we only want to help. We believe in the constitutional right to bail and we feel that situations like these should be settled in the court of law, not the court of opinion. SCV Bail Bond agents post bail 24/7 to all jails throughout Southern California, Ventura County and the entire state. We have had a lot of experience with ADW and many other charges, too. When you call us, we'll ask a few quick questions about the arrestee to help us get information about his/her whereabouts at the jail. Then we can send you our simple application and contract by fax, email or have you visit us online at our website.
Paying For the Bail Bond
We  understand paying for a bail bond may be difficult for families to afford. That is why we offer flexible payment options and experienced, licensed bail bond agents who are happy to answer any questions you have. In addition to Assault with a Deadly Weapon charges, we also handle a wide variety of other charges. A licensed bondsman is happy to meet at your home, office, our office or at the jail to assist with the paperwork. Our consultations are always free. We are accredited members of the Better Business Bureau and proud members of the California Bail Agents Association. Please review why choosing us can have a huge impact on how quickly you or a friend or loved one will be released from jail. (The good news is, the arrestee can return home quickly, so they can take care of family, home, school priorities and retain a criminal law attorney to help defend them against these high level charges!) For more information, read more about options for release from jail on our bail articles and information page. SCV Bail bonds is open 24/7, weekends and holidays. To speak with a live agent about bail by phone, fax, email, online or in person, call us for bail assistance, at  877-422-4591 (877-4-BAIL 911) now.