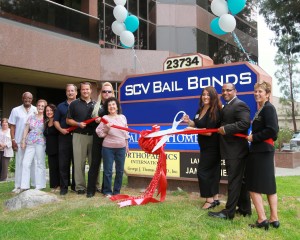 SANTA CLARITA, CA —  On Thursday, July 12th, SCV Bail Bonds welcomed several esteemed Santa Clarita Chamber of Commerce Ambassadors, members, friends and family to their grand opening and ribbon cutting event, which featured great food, swag bags, raffle prizes and shining speeches.
Although, SCV Bail Bonds has established themselves in the Santa Clarita community, owners/agents and husband and wife team, Robin Sandoval and Nuri March, wanted to open a new office, which is more centrally located to the heart of Valencia's legal and business district. Their office is now located directly across the street from the Newhall courthouse and Santa Clarita Sheriff's Station Jail, at 20605 Soledad Canyon, #100.
"Their blue SCV Bail Bonds monument sign in the front of the building stands as a beacon to let people know they are always there in times when people need them," said Angie Duff of Princess Cruises.
Along with the large group of well-wishers, K-NINE, friend of Robin and Nuri's and official celebrity look-alike of "Dog the Bounty Hunter," made an appearance with his wife Donna, to support the grand opening and to be part of the ribbon cutting celebration. He signed autographs for attendees, remaining in character for most of the event.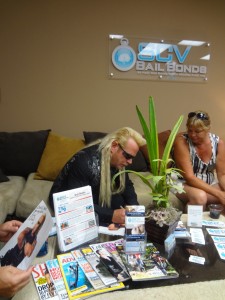 "We're excited to be the closest bail agency to the Santa Clarita Valley Station jail and about expanding our horizons. We are available to service the entire Santa Clarita valley and communities in Los Angeles County and Ventura 24 hours a day."
We're now just a short walk from the SCV Station and will always continue to treat our clients and our neighbors, with integrity, professionalism and discretion," Robin said.
"We were honored so many came out to support us and we want to thank them for sharing in this special day."
SCV Bail Bonds are proud members of the Santa Clarita Chamber of Commerce, Accredited members of the Better Business Bureau, Members of the California Bail Agents Association and the National Notary Association.
They offer no-cost consultations and are open 24 hours a day, 7 days a week.
SCV Bail Bonds
20605 Soledad Canyon, #100
Santa Clarita, CA 91351
For more information, contact Robin Sandoval or Nuri March directly at (661) 299-BAIL (2245) or Toll-free at 877-422-4591.
Additionally, you can log onto their Facebook page.