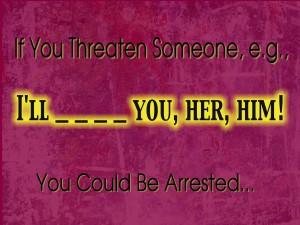 California Penal Code Criminal Threats Charges Section 422 – 422.4
Despite what some may believe, making a threat towards someone is a crime, even if one doesn't follow through with it. Those who are involved with criminal threats, once referred to as "terrorist threats," will find themselves arrested and jailed regardless of whether the charge was a misdemeanor or a felony.
According to California Penal Code 422, a criminal threat is constituted by willfully making a threat to inflict harm or kill another person orally, in writing or even by electronic device such as a text message or social networking site. It should be noted that criminal threats are considered as one strike against a defendant as per California's 3 strikes law.
Criminal threats in the State of California carry with them a penalty of time served up to three years in state prison, and/or even harsher penalties.
Regardless of whether or not a threat is carried out (or even intended to be) is irrelevant. A criminal threat charge can be pressed if the circumstances of the situation convey to the target of the threat an immediate sense of danger to themselves or their immediate family.
For additional information about Criminal Threat Charges in California including booking, charge and bail bonds, call us now toll-free at 877-422-4591 (877-4-BAIL-911).
Penalties for Criminal Threat Charges
Penal Code 422 is often referred to as a "wobbler," which means that infractions can be charged as a misdemeanor or felony with dramatically different sentences. Misdemeanors in this category carry a maximum sentence of one year in county jail. Felonies, however, carry a maximum sentence of four years in State Prison, with up to one additional year added should a deadly or dangerous weapon be involved.
The fact that criminal threats constitute a "strike" under California's 3 strikes law means that 85% of the sentence must be served before one is eligible for release from incarceration.
We can answer any questions you have if someone you care for has been arrested with this charge and taken into custody. We can locate where they are being held and their booking information, then get started in processing a bail bond for their fastest release.
How to Get Started With a Bail Bond
The first step is to call us and immediately speak with one of our licensed bail bondsmen. It will be helpful if you have certain information available beforehand such as the defendant's name, birth date, time of arrest and the jail in which they are currently being held. If not all of this information is available, don't worry – we will help you  locate your friend or loved one. After that, we will walk you through the bail bond application process step by step.
Bail Costs in California
Bail amounts vary widely depending on the severity of the crime(s) committed. In California, the cost of a bail bond is set at 10% of the total bail amount. So, if the total amount of bail is $15,000, then the cost of a bail bond will be $1,500.
Once this has been completed, bail will be set provided the inmate will be eligible.
Flexible Payment Options
To pay for a bond we take all major credit cards, cash, direct deposit and checks with prior approval. We also offer flexible payment options and can also work with your family to establish a payment program.
Just call us to see how easy it is to qualify. We at SCV bail Bonds are happy to answer any questions you have about the bail bond payment process, 24 hours a day.
If someone you know or love has been arrested on a Criminal Threat charge in California, call us any time day or night to speak with a friendly, knowledgeable bail bondsman and get the bail process started. Call us at 877-422-4591 (877-4-BAIL-911).