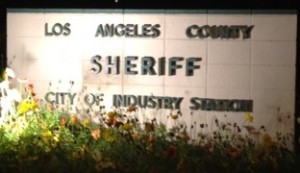 The City of Industry Station Jail is a smaller jail. Those who have been arrested in Industry, La Puente or La Habra and taken to this station may only be there for a short while or until their arraignment.
Booking Process
It can take anywhere from 2 to 4 hours for the booking process to be completed which consists of fingerprinting, photographs and entering the defendant into the national database. Bail can not be posted here until the defendant has been completely booked and entered into the system.
If they are not bailed out of this jail rather quickly, male defendants will be transfered to Twin Towers County Jail and women will be transferred to Lynwood, also known as CRDF jail for women.
We always advise contacting us shortly after arrest. It's the best chance of having your family member, friend or loved one bailed out while they are still being held at the smaller, City of Industry jail.
A licensed, professional bail bondsman is available to answer any questions you have about City of Industry Bail Bonds, 24 hours a day at toll-free 877-422-4591.
LASD – City of Industry Sheriff's Station
150 North Hudson Ave.
City of Industry, CA 91744
Station Business Phone: 626-330-3322
Toll-Free, 24 Hour, City of Industry Bail Bond Info: 877-422-4591
City of Industry Inmate Information
The City of Industry patrol area is located in the eastern portion of Los Angeles County, including the east San Gabriel and Walnut Valleys. This station is responsible for providing police services to the cities of Industry, La Puente and La Habra Heights, and the unincorporated county communities of East and West Valinda, Valinda, Bassett/North Whittier and Hacienda Heights.
Inmate Details
Inmates are allowed to make recorded, collect phone calls from a monitored facility phone but they cannot receive any incoming calls or messages. However, a clergy member, attorney or  a bail bond agent may visit them at anytime.
When you call us, we can let you know if they've been booked into the system. Then, we can provide you their charges, their booking number and other pertinent details.
We can answer your questions any time of the day or night. Call us toll-free, from any state at 877-422-4591 for fast, accurate information for the City of Industry Jail. We'll help you get through this time with care and professionalism.