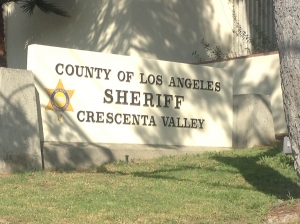 We can help you understand the process of bailing someone out if they've been arrested and taken to the La Crescenta Valley Station Jail.
Often, smaller jails will not hold a detainee for long. The defendant may be transferred to a larger county jail facility. Being transfered can result in additional processing, both out of the local jail and into County Jail. This can add hours to the bail process.
Once the booking process is complete, the detainee may be bailed out of jail. We always recommend bailing the defendant out while they are still being held in the smaller jail facility such as La Crescenta jail for a much faster release.
Call us 24 hours a day to speak with a licensed, professional bondsman. They can best help you navigate the details of the bail process and work to have them released from the La Crescenta Valley Station Jail as quickly as possible.
We also offer bail by fax or email if that's easier for you.
Call us toll-free, 877-422-4591, or locally at (818) 900-BAIL (2245) 24 hours a day, 356 days a year and speak with a bondsman regarding a La Crescenta arrest.
La Crescenta Sheriff Station and Jail Information
LASD La Crescenta Valley Station Jail
4554 N. Briggs Ave.
La Crescenta, CA 91214
Sheriff's Desk: (818) 248-3464
24 Hour La Crescenta Bail Info: (818) 900-2245
La Crescenta Inmate Information
The Crescenta Valley Station is located in unincorporated community of La Crescenta, known as "The Balcony of Southern California." It is located in the foothills north of Glendale.
La Crescenta Valley Station is responsible for providing law enforcement services to the City of La Canada Flintridge, the unincorporated communities of La Crescenta, Montrose, Lake View Terrace, and much of the Angeles National Forest with a total population of over 45,000.
Bail Information
California bail amounts are set according to the charges and are known as the "Bail Schedule." The bail schedule is established by the Uniform Bail Procedures Committee and approved by the judges of the Superior Court of California.
Bail Costs
In California, the cost of a bail bond is set at 10% of the total bail amount. So, if the total amount of bail is $15,000, then the cost of a bail bond will be $1,500..  This is a non-refundable fee fully earned when the defendant has been released.
For payment of the bond, we accept all major credit cards, checks and cash. Further, with steady employment and fair credit, we can set up an easy payment plan that makes paying for the bond easier for you and your family.
We're a company that cares. When you need help with a bond in La Crescenta, call us anytime. Our local number is 818-900-BAIL (2245). We're here for you.