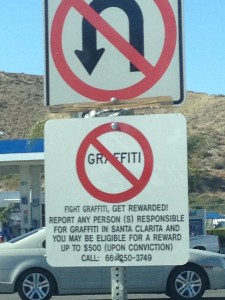 In early November, a Valencia teen was arraigned on three counts of felony vandalism and three counts of misdemeanor vandalism. Allegedly, the teen used spray paint to vandalize homes and cars in the North Park area of the Santa Clarita Valley.
According to deputy district attorney Micah Piantanidah: "There were three vehicles that were tagged by the defendant, and the damage was at a felony level. And so for a felony charge the damage or cost to clean up the vandalism has to be more than $400."
In the State of California, vandalism can be charged as either a misdemeanor or a felony depending on the amount of money it would cost to repair or replace the damaged or destroyed property.
If the cost is below $400, the charges will be pressed as misdemeanors; however, if the cost is above $400, then the charges of can be pressed as either a misdemeanor or a felony, at the prosecutor's discretion.
Should the suspect be convicted of all charges, he faces possible jail time in a Los Angeles County Jail facility, fines and informal probation.
The teen who faces charges is the son of the chair of the Santa Clarita Planning Commission as well as the president of the homeowners association in the neighborhood where the vandalism took place.