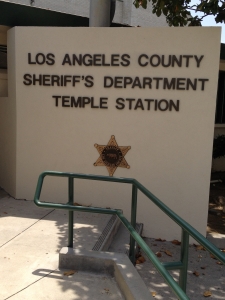 Temple City Sheriff's Station – LASD

8838 Las Tunas Dr.
Temple City, CA 91780
Station Business Phone: 626-285-7171
24 Hour Temple City Jail Bail Bond Info: 877-422-4591
Temple City Jail Inmate Information 
The Los Angeles County Sheriff's Department Temple Station serves the contract cities of Bradbury, Duarte, Rosemead, South El Monte and Temple City, along with the unincorporated County areas of Monrovia-Arcadia-Duarte, North San Gabriel/East Pasadena, and South San Gabriel.
Temple Station also provides law enforcement services for the Chantry Flats area, located in the Angeles National Forest above the city of Arcadia.
Booking Process
A defendant's booking process can take anywhere from one to 24 hours depending on the size and workload of the jail. Larger jail facilities can take much longer to book a defendant than a smaller one such as in Temple City.
A defendant's booking process generally consists of fingerprinting, photographs, conducting background checks and entering the inmate into the jail's computer system.
Smaller California jails may often transfer inmates to larger, county jail facilities after a certain period of time if the defendant is not bailed out rather quickly. It's important to know that a bail bond can typically be posted at most California jails, 24-hours a day.
A licensed bondsman is available for you 24 hours a day. Just call us toll-free at 877-422-4591 for a no-cost consultation day or night.