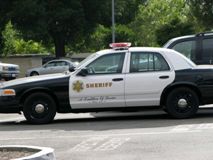 After receiving a lead in an identity theft case, Santa Clarita Valley Detectives have made one arrest and are actively seeking the community's help in locating another person of interest.
The suspect in custody is being charged with six counts is in connection with a crime ring believed to have committed identity theft related crimes all over Southern California.
According to Deputy Josh Dubin, the woman in custody is the one believed to have stolen the physical wallets from the victims, three of which were from Santa Clarita and had thousands of dollars stolen when their identities were compromised.
All three women were blonde caucasians who bore a similar appearance to the woman actively being sought by deputies. Recently, Santa Clarita Sheriff Deputies have received security camera footage of the woman they are seeking.
The case began on January 12th when Deputies received three separate calls regarding stolen wallets from female victims. Noticing the similar appearance of all three women, Deputies exchanged information with surrounding law enforcement officials and concluded that the incidents may be related to a larger spate of identity theft crimes taking place across the Los Angeles area.
The name of the woman in custody is Valerie Lynn Rae and she is being held on three counts of burglary and three counts of identity theft. Deputies do not believe she acted alone and are actively seeking information on the whereabouts of her suspected accomplice(s).