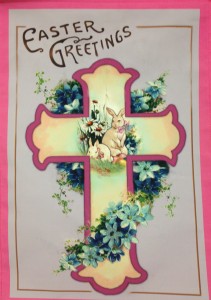 Easter Sunday is this weekend! Our Christian readers will likely be spending this Sunday celebrating the resurrection of Jesus Christ.
For those who are somewhat less religious, perhaps it is just a beautiful Sunday to spend with family or friends. Either way, there are a number of special events in Los Angeles that are sure to please both the religious-minded individuals as well as those who prefer a more secular view.
In Santa Clarita, there will be a host of things to do along with Easter egg hunts, special Easter lunches and dinners served at many of the fine restaurants around town, a dramatic sunrise reenactment presentation which will include more than 60 costumed actors at Vasquez Rocks, and other sunrise services around town, Easter train rides, the "Eggstravaganza" at Central Park, a visit by the Easter bunny, and communal seders. For more information, log onto the Santa Clarita Guide.
One of the perks of springtime in Southern California is the wildflowers that bloom along swaths of the 5 freeway where the cities and their developments have yet to reach. Poppy season in California lasts from begins in March and continues through May, and according to experts, the best time to view the poppies is somewhere mid-April. That being the case, the Antelope Valley California Poppy Reserve should be in full bloom April 20th. It's located near Lancaster about 15 miles west of the 14 Freeway.
If you're interested in something a little more traditional, then why not check out the 6th Annual Downtown Easter Fest at 919 Grand Ave. in Los Angeles? It's open to everyone, it's free, and there will be a number of activities for the whole family. Do your kids like Easter egg hunts? Face Painting? Arts and Crafts? All these things, and more, will be going on all day long.
Lastly, for those on whom the religious significance of Easter is paramount, The Little Victory Theatre in Burbank will be hosting The Road to Damascus, a one-man musical by Broadway performer Tony Monaco. The play is inspired by the conversion of Rabbi Saul of Tarsus (more commonly known as Paul the Apostle). The play opens on April 11th and will continue through April 27th.
Whatever you choose to do this Easter Sunday, remember to stay safe. From the SCV Bail Bonds family to yours, have a happy Easter!