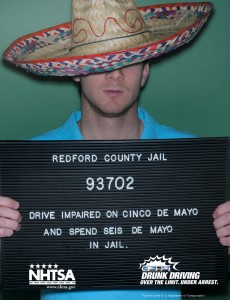 There will be several DUI checkpoints set up throughout Los Angeles County in an attempt to dissuade drunk driving over this Cinco de Mayo weekend.
Cinco de Mayo is the day to celebrate the Mexican victory over the French at The Battle of Puebla in 1862. Over the years, it has grown to also encompass the celebration of Mexican heritage in North America.
Like many holidays, Cinco de Mayo is celebrated with parades, and gathering with friends, barbecues, and overflowing cervezas, margaritas and tequila shots. Many are already planning to attend the world famous Cinco De Mayo pub crawl in Hollywood.
However, where there is drinking, there is an elevated occurrence of DUIs, which can lead felony arrest and jail time. Even worse, it can lead to the injury or death of the driver, their passengers, and/or innocent people. Tragically, DUIs are one of the most preventable crimes in existence, provided everyone plans ahead for a safe night.
The first thing you can do in order to enjoy a safe Cinco de Mayo is to set up a designated driver. If none of your friends or family are willing to forgo drinking this holiday weekend, never fear! A designated driver can always be found in the form of a taxi or shuttle. Some offer free rides on special nights such as this!
If a taxi isn't one of your travel options or the ride home is just too far, ask the host if you can stay the night. This of course, will only work if you plan to be at a house party. The vast majority of people would much rather have a few extra guests for a night than risk having someone drive home intoxicated.
If you plan to go bar hopping and don't want to take a taxi, plan to stay at a motel or hotel near where you will be. Spending a night at a hotel may be a bit costly, but no matter where you stay, it's guaranteed to be cheaper than what you'll pay for a DUI.
From all of us at SCV Bail Bonds, have a safe and happy Cinco de Mayo!