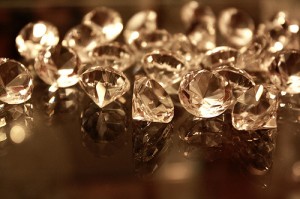 Not many thieves go for the gusto much these days, but on Monday suspected professionals netted $50 million dollars worth of merchandise during a diamond heist in Belgium.
A Helvetic Airways jet was set for an 8pm takeoff Monday evening when two automobiles resembling police vehicles approached the plane with flashing lights and sounding their sirens.
Eight men in police uniforms emerged from the vehicles, brandished guns and forced open the airplane's hold. After removing about 120 bags, the thieves got back into their vehicles and escaped through a hole in a nearby fence.
Later on, police located one of the getaway vehicles near the airport, but it was burned-out and abandoned.
Though the thieves were armed, no shots were fired and no person was injured during the robbery. The entire event lasted only five minutes and the passengers on the plane weren't even aware of the crime as it was happening.
The haul contained both cut and raw diamonds from Antwerp on their way to Switzerland. The total cost of the stolen goods is estimated at about $50 million dollars, though investigators refuse to give a precise monetary value, as well as disclose the owner of the diamonds.
For hundreds of years, Antwerp has been one of the leading centers for diamonds, and in 2003 it was the location of one of the largest diamond-heists in history with $98 million dollars in merchandise being stolen from the vaults at the diamond center.