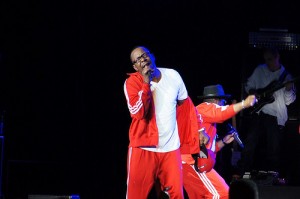 It seems like Bobby Brown has had just as much media coverage for his law-breaking behavior as he's received for his success as a singer.
Arrested in October by the LAPD, Bobby Brown pleads not guilty for the second DUI charge he has faced in 7 months.
It began, like so many other arrests, on the night of October 24th when brown was stopped near Tarzana, CA. for talking on his cell phone while driving.  Upon speaking to Brown, it became apparent to the officers that he smelled of alcohol.
After failing both a breathalyzer and a field-sobriety test, Brown was taken into custody for allegedly driving while under the influence with a prior conviction, driving on a restricted license, and driving without a court-ordered breathalyzer attached to the ignition-device in his car.
If Brown is convicted on all charges, he faces a maximum sentence of 2 years behind bars, along with the sentence he is currently serving of 3 years probation from a previous conviction in which he plead no contest.
According to LAPD Sgt. Pablo Monterrosa, Brown was cooperative with the arresting officers and accepted his fate gracefully. Not all celebrities are inclined to follow-suit, though. If you recall Mel Gibson's drunken tirade filled with derogatory language and insults, some altercations with police can have career-altering consequences.
If Bobby Brown was indeed driving while under the influence, it's lucky for him that nobody was hurt. Driving while under the influence can seem an innocuous crime, when one has had very little to drink. However, it can very quickly spiral into a major offense if someone is injured or killed as a result of another's reckless behavior when alcohol is involved.