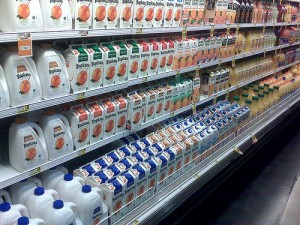 An attempted poisoning was thwarted at a San Jose Starbucks. The San Jose police arrested Ramineh Behbehanian, aged 50 after a customer at the Starbucks reported strange behavior.
Ramineh was seen removing orange juice bottles from the store shelves and replacing them with ones she carried in her purse. After the customer reported what he saw to the store manager, Behbehanian took off.
Upon inspecting the bottles, employees noticed a toxic smell emanating from the lid and called 911. Firefighters who responded to the scene tested the bottles of orange juice and found that they contained "lethal amounts" of rubbing alcohol. Luckily, the suspicious activity was seen quickly enough and nobody drank from the bottles.
After police arrived the bottles were taken as evidence and police were given the license plate number of the car that Behbehanian was seen fleeing in. After running the license plate numbers, police were led to Ramineh Behbehanian's home where she was arrested without incident.
It is unknown whether or not the suspect had tried to cause harm in a similar fashion before or if this was a first-attempt. As a precaution, all the juices at the Starbucks were taken out of the open-air refrigerator and discarded, and other Starbucks in the area were told to closely inspect the juices in their refrigerators as well.
Behbehanian is being charged with attempted murder. It is unknown whether or not she is eligible for bail.